EDDIE'S GRUB HOUSE
After two long days of shooting our summer campaign left our models and crew in desperate need of some quality grub and a glass of Tennessee's finest. Where better to wet our whistles than Coolongatta's best, Eddie's Grub House, where Hendrix blares through the speakers, and Lemmy keeps a watchful eye over proceedings. A homage to blues and booze, the burgers at this joint are sure to please. Wrangler babe Britanny Odell is rocking our body suit and Hi Pins in Sonic Black, and Jai Stevens shows us how to Canadian tuxedo in the Apache Shirt and the Smith Jean in Nomad Blue. Keep an eye out for the Rookery Shirt, dropping in December.
Wrangler Blog
At Wrangler our motto has been the same since the beginning. It's all about the jeans. Designed locally in Australia for free-spirited individuals, who live by an underlying sense of adventure and freedom.
Contributors

We at Wrangler Australia are a small and dedicated team who absolutely love denim. Contributors include our designers, marketing team and our collaborating friends.
Read posts >
Post of the Month
The Wrangler X fallen BROKEN street exchange party took place last Saturday from 11:11 as a pre Splendour shindig at one of the last great country pubs - the Billinudgel Hotel.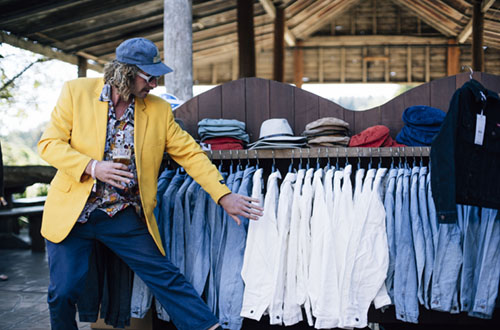 Read Post >
Instagram @WranglerAustrailia