Wednesday
November 28
2018
Tell us a bit about The Daily Bar! Who are you, what you do, where you are, what's coming up?
We're best friends in Byron Bay, who are trying to save this snack-forsaken world, one healthy snack bar at a time. What we do is very simple, we have just created honestly healthy snacks for people who want to feel good and eat real food. And always having a laugh along the way.
Describe The Daily Bar in 5 words…
Clean living in a bar
Alex wears the Lights Logo tee in faded Sun
---
Let's go back to the beginning… How did you guys get started?
As cliché as it sounds, there weren't any snacks out there that we wanted to eat everyday, either they were full of shit (ingredients we couldn't pronounce) or just loaded with natural sugars, making them treats in our eyes. So we decided instead of sitting around complaining about the lack of good snacks out there, we'd just do something about it, and here we are with a snack bar company. Pretty funny to think we've decided to pave our way in life by making snacks, but it just all happened really naturally.
What sets you apart from all the other bars out there?
We make snack bars that are actually good for you. There's so much vegan junk food out there masquerading as 'healthy' snack bars. We make snacks that fill you up and keep you full, perfect the modern day busy guy or gal. All our packaging is plastic free, we use a home compostable inner wrapper, made from renewable plant fibre and pack them in veggie ink printed recycled boxes, because in our books it's about planet before profits, always.
How do you stay inspired/what inspires you most?
Living in a place like Byron, where the environment and the natural landscape are such a focal part of our lives, it's a daily reminder of how it's the simple things like, clean food, clean living and community are what's most important. For us purpose and passion for this lifestyle are so engrained in every aspect of The Daily Bar, this is so much more than just a snack bar, we want to promote a lifestyle that is as conscious as it is healthy.
Harry wears the Vedder Tee in yellow Stripe
Tell us about how you create your bars? What's the process, time, thought that goes into each?
It's about being sustainable for us and sustainable for the planet. We're active busy people and it's really important that we fuel ourselves properly, and that our environmental footprint is at the forefront of our thought processes in whatever we do. When it comes to the actually creation of the bars, that happens on the full moon of every month, when we have vivid dreams about delicious gluten free, dairy free, grain free, low sugar snacks with compostable packaging. Only some will ever be lucky enough to experience and act on such bizarre dreams.
What considerations contribute to choosing where you choose to travel? For work? For fun?
One of the things about trying to create a brand and a business, is that it comes with sacrifice. At this stage travelling for fun has had to been sacrificed, just momentarily.
Travel for work is however is frequent, and to the places where people are hungry for snacks (this year notably Melbourne and Sydney for various events and festivals).
Alex wears the Bandit Romper Denim Daze
Something/somewhere new that you've discovered recently?
That we can actually claim nearly all the food we buy as a tax right off ~ product development research or something like that?!
Ultimate road trip itinerary, crew & soundtrack?
The 2km journey from our office to The Pass, to surf all afternoon on a Friday. Crew being us and the 350 other people that infect the line up at The Pass, we wouldn't have it any other way. Usually to the sounds of Brenda, by Ara Koufax.
What does "Freedom" mean to you?
Freedom is something we actually experience every afternoon after work when we paddle out into the ocean. It is bliss, we are free from any restraints, and nothing else in the world seems to matter.
How does your work/lifestyle create freedom for you?
We're so fortunate to be our own bosses, which means we choose to work bloody hard most of the time, but we're also young and know we won't always be, so there's definitely times that we prioritise living a little, over work. But at the end of the day, we love what we do! So work and what we're working towards in bringing health food to the masses, feels like freedom too!
FAST 5:
Coffee or tea?
Sunrise or sunset?
Surf or skate?
Dogs or cats?
Fave Daily Bar flavour?
Find out more about The Daily Bars here
Check out The Daily Bars on Instagram here
Wrangler Blog
At Wrangler our motto has been the same since the beginning. It's all about the jeans. Designed locally in Australia for free-spirited individuals, who live by an underlying sense of adventure and freedom.
Contributors

We at Wrangler Australia are a small and dedicated team who absolutely love denim. Contributors include our designers, marketing team and our collaborating friends.
Read posts >
Post of the Month
The Wrangler X fallen BROKEN street exchange party took place last Saturday from 11:11 as a pre Splendour shindig at one of the last great country pubs - the Billinudgel Hotel.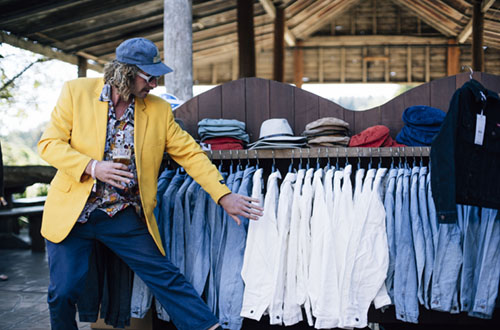 Read Post >
Instagram @WranglerAustrailia