Emily Labowe from Poppy Undies
Describe your life in 3 words
Being able to live without fear- fear of failure, fear of loss...
Poppy undies came about because…
My mom taught me how to embroider a couple years ago over the holidays and I fell in love with it. I thought underwear would be a cool way to show my work. It's intimate and personal.
---
I've discovered I'm best at stitching….
I think I'm best at chain stitch veggies !
The first pair I sold were to….
My friend for her birthday! But I didn't sell them to her, they were a gift. They were high waisted turquoise undies with the Taurus horoscope sign in purple.
How do you keep coming up with fresh ideas?
I try to keep a board of my favorite things, from foods I like, to shapes, to scenes in movies, music, quotes, animals etc. ideas just pop in to my head, but I have no real plan for releasing certain ones. I just sort of make what i feel like making at the time. A lot of the pieces I make too are custom pieces for customers, so they come to me with the idea and I draw it out for them. It's a collaborative way to make a special piece.
What other creative outlets do you dabble in?
I love playing drums and cooking and baking. Also watercoloring and frequenting color-me-mine.
How do you create content for the Poppy insta page?
I do a couple shoots a year with friends as production and models. I also take photos on my own (shitty low fi iPhone photos!) or have customers send me pics of their undies.
Best piece of advice for people trying to grow their following?
I honestly don't know the trick! I'm inept at things like that...
What have you discovered recently?
Sacha baron cohens new show Who is America. Pure genius
Favourite spot within a 2 hour drive of LA?
A secret beach in Malibu
Wrangler Blog
At Wrangler our motto has been the same since the beginning. It's all about the jeans. Designed locally in Australia for free-spirited individuals, who live by an underlying sense of adventure and freedom.
Contributors

We at Wrangler Australia are a small and dedicated team who absolutely love denim. Contributors include our designers, marketing team and our collaborating friends.
Read posts >
Post of the Month
The Wrangler X fallen BROKEN street exchange party took place last Saturday from 11:11 as a pre Splendour shindig at one of the last great country pubs - the Billinudgel Hotel.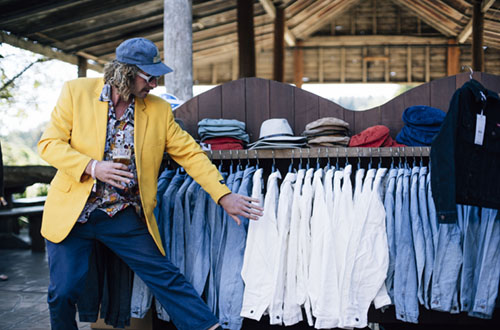 Read Post >
Instagram @WranglerAustrailia