I'm a singer songwriter/musician, and part time retail grinder residing in the concrete jungle of Melbourne. I'm just about to release my first single for the year, which is the first of many songs set for release this year.
What does Freedom mean to you?
I see freedom as a momentary appreciation of the present. Its just being, without any cares of an outside perception or bad energy. It can be a feeling of liberation, relaxation or simply just a moment of release from any bullshit.
---
When do you feel the most free?
Usually when Im creating or performing any kind of music. Whether that be in my bedroom practising scales on my telecaster over a warm new synth sound I find that goes well with a shitty drum beat I put together on Abelton, or on stage with my band mates sharing a sweet energy. I am fully basked in the creation of sound, no phone calls or texts to ponder on, not worrying about the shitty day I may have had at work, just sound and creation. Also when I'm surfing, and when I'm kicking it with the people I'm closest with, being myself with no qualms.

Describe yourself/your life in 3 words…
Fast, Changing, Optimistic
How long have you been making music? What do you love about it?

There are photos and videos of me as a kid, smashing all the pots and pans as drums and making up words while singing along to Nirvanas MTV Unlugged record. Although I never explored it from a super young age. My first 'moments' with a guitar is when I was 12, a friend of mine showed me 3 chords, Gmaj, Eminor & Dmaj. I was hooked from the get go. This lead on to a few months of lessons teaching myself almost any instrument I could get my hands on, and trying to master playing John Butlers song 'Ocean'. Little did I know that 10 years on I would be releasing my own music, playing shows nationally and internationally. I've been in Melbourne almost 5 years now, & since moving here, creating and performing has become more and more a part of me and my lifestyle.
Who/what is currently inspiring you most?

I've been listening to a lot of The War On Drugs, The National, Dope Lemon and Bon Iver, Jordan Rakei and some old Tom Petty & The Heartbreakers.
What projects do you have on the go right now?

So far it hasn't left the house/bedroom unless we're having a kick on with some friends, but I've been making some electronic beats in the techno/house realm with 2 of my
friends. We've done a few DJ sets around Melbourne which has been super fun. We call ourselves 'Hockey Lane' which originates from our previous Melbourne house we shared and had some boozy and fun times in.

What's one of the craziest experiences of your life?

Probably getting lost on my motorbike in Ho Chi Min city in Vietnam and losing my travel buddy for hours. That place is insane.
Name the best location you have ever played music in?

Brooklyn, NYC, Rough Trade. I was supporting my buddy Tash Sultana on a run of shows in the U.S.A in 2017. There was snow, bagels, XXL beer cans, and a warm and welcoming energy the minute I walked on stage. Not to mention as you walk through the front door of the Venue, you enter yourself into a large and majestic record store.
Ultimate road trip itinerary/crew & playlist?

Pacific Coast Highway starting from California's Northern Border all the way down to San Diego. Stopping for many surfs along the coastline, some cold and gold brews in the
seaside villages, some wine tasting at some of the wine making districts, few packets of Camel cigarettes. I'd be listening to Fleetwood Mac, The War On Drugs, Tom Petty, Bon Iver, Daft Punk and some of my favourite movie sound tracks.
Wrangler Blog
At Wrangler our motto has been the same since the beginning. It's all about the jeans. Designed locally in Australia for free-spirited individuals, who live by an underlying sense of adventure and freedom.
Contributors

We at Wrangler Australia are a small and dedicated team who absolutely love denim. Contributors include our designers, marketing team and our collaborating friends.
Read posts >
Post of the Month
The Wrangler X fallen BROKEN street exchange party took place last Saturday from 11:11 as a pre Splendour shindig at one of the last great country pubs - the Billinudgel Hotel.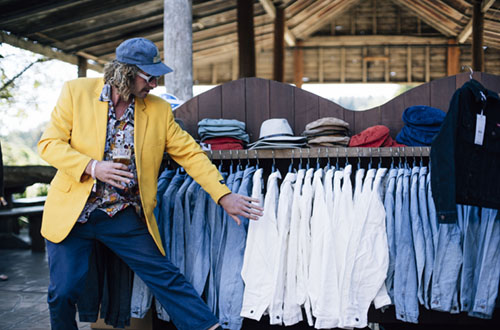 Read Post >
Instagram @WranglerAustrailia