Tell us a bit about yourself...
I'm a travel writer and (sometimes) model who travels with my partner-in-crime documenting countries, cultures; people and places. Right now we're at the airport headed for Japan, frantically trying to download as many David Attenborough documentaries we can for our trip over. After that, we're heading to Fiji, Sri Lanka and Indonesia before spending the next half of the year in Europe and trying to figure out where we should base ourselves.
What does Freedom mean to you?

I feel incredibly lucky to have won the birth lottery in terms of freedom. We have it so good. I guess when I think about it, freedom for me would be being equal and respected. Living a life free of class, gender, race or religion. Without the constraints of an unfair system and able to live without fear. On the whole, I (and hopefully most reading this) are able to live that way: that's very rare, and it's something we shouldn't easily forget.
---
When do you feel the most free?
Two ways. One when I'm on an empty stretch of beach and reading a book that's gotten a hold of me. The air is crisp, the sand is warm and all forms of technology have been left at home. That, or when I'm anonymous and travelling. Nobody knows my story, there's no history or preconceived ideas, and I can just happily sink into oblivion and experience all the newness which is around me.
Describe yourself/your life in 5 words…
Silly, storyteller, romantic, kind, odd.
Who/what is currently inspiring you most?

I go through phases of different people who inspire me, but there's always a constant and that's my parents. They are still travelling, creating, and learning just as much as me and it's incredibly inspiring and motivating. My dad has just released a new album which is definitely worth this plug and definitely worth a listen. Go to spotify and let it take you away: https://open.spotify.com/track/1AqDQ2jVQZLwXGls4GjyuQ
How do you feel about sharing your adventures/discoveries with others?

I have control of what I do and don't share, so I feel fine with it. There's always secrets - life for me wouldn't be as fun without them. When the camera is down and the phones are left behind, we melt into our adventures and let ourselves be taken away.
What's the most challenging part about travelling so much?
It's definitely a 'grass is always greener' situation. We don't have a base so I don't feel I really have a home, but growing up in a lot of different countries prepared me for that. You can also lose touch with friends simply because you're not ever really around. But home is Tom and the best of friends will always be there, and so when it's tough I remind myself of this. Also being locked in a room with Tom after he has had a very baked-beany meal is pretty much torture...
What's one of the craziest experiences of your life?
Meeting a man and moving countries to be with him after a week. He is now my fiance so luckily that worked out pretty well.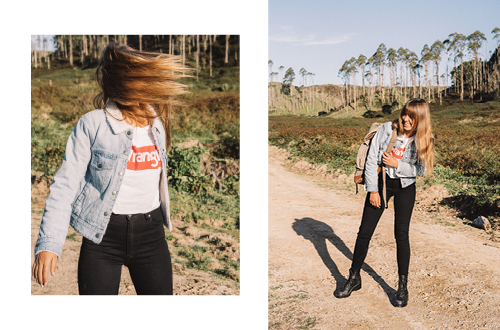 Ultimate road trip itinerary, crew, music?
Itinerary: I am absolutely hopeless at planning. I have a real fear of commitment and so most of the time flights aren't booked until a week before and plans change in an instant. I call it being spontaneous, in reality it's extremely frustrating (sorry Tom).
Crew: whoever is up for an adventure. Right now I'd choose Tom, Cait, Sarah & Mackie, Wyllie and Matt (matt is single...he'd want me to say that...).

Music: lots of Mac Demarco, Father John Misty, Kishi Bashi, Khruangbin, Bob Dylan, Rolling Stones, Joni Mitchell and (of course) Colin Macpherson.
Wrangler Blog
At Wrangler our motto has been the same since the beginning. It's all about the jeans. Designed locally in Australia for free-spirited individuals, who live by an underlying sense of adventure and freedom.
Contributors

We at Wrangler Australia are a small and dedicated team who absolutely love denim. Contributors include our designers, marketing team and our collaborating friends.
Read posts >
Post of the Month
The Wrangler X fallen BROKEN street exchange party took place last Saturday from 11:11 as a pre Splendour shindig at one of the last great country pubs - the Billinudgel Hotel.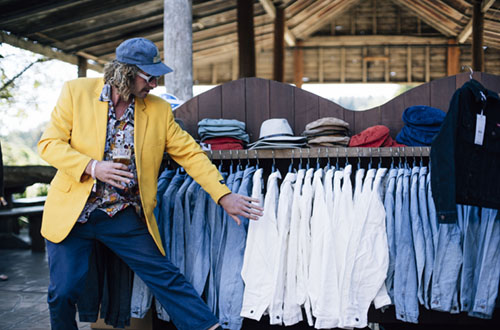 Read Post >
Instagram @WranglerAustrailia