FREE TO EXPRESS: A19 PART II
WHERE THE CLIFF MEETS THE SEA...
Here at Wrangler Australia, we've been field testing the notion of freedom for decades. We've concluded that the concept of freedom differs depending on who you pose the question to, but the overarching theme always stays true, the ability to do exactly what you want and how you want to do it.

The collection is comprised of pieces that embrace the changing season with ear thy tones and designs inspired by late 70s/early 80s rock including ACDC, the Hoodoo Gurus, Cheetah and the Runaways. With a nostalgic nod to Alberts Music, and the magic that was created within those walls, this collection is a throw back to time spent in recording studios and local dive bars.
---

We've continued the injection of our very own heritage inspired signature fabric, Broken Twill in selected denim styles. The unique construction allows for an amazing hand feel and allows natural stretch and breathability that only improves with time. Corduroy makes another stellar appearance across multiple silhouettes, including the absolute throwback Hi Bells Cropped pant and mens shirting and outerwear. We have further refined the fabric to be as soft and flexible as possible, providing an even more comfortable feel for the wearer.

In our effor t to reduce our impact on the environment, we're continuing to use BCI cotton in our Autumn 19 collection. BCI-licensed farmers produce cotton in a way that focuses on decreasing the environmental impact of cotton, improving water efficiency, minimizing the effects of fer tilizers and pesticides, soil health and natural habitats. BCI also focuses on education and is committed to improving labour standards and the livelihoods and economic development for the farming communities.
Honor wears the Renegade Jumpsuit.
Wrangler Blog
At Wrangler our motto has been the same since the beginning. It's all about the jeans. Designed locally in Australia for free-spirited individuals, who live by an underlying sense of adventure and freedom.
Contributors

We at Wrangler Australia are a small and dedicated team who absolutely love denim. Contributors include our designers, marketing team and our collaborating friends.
Read posts >
Post of the Month
The Wrangler X fallen BROKEN street exchange party took place last Saturday from 11:11 as a pre Splendour shindig at one of the last great country pubs - the Billinudgel Hotel.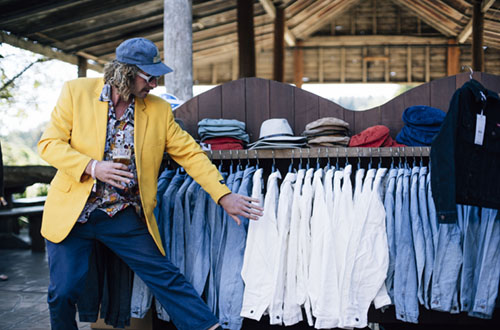 Read Post >
Instagram @WranglerAustrailia