We sent Dane and his crew along to Laneway Festival in Sydney last month with a bunch of disposable cameras, Wrangler threads & good vibes for a day full of summer festival fun. Here's what went down...
---
We had an epic time at Laneway festival Sydney.
We woke up and got some breakfast at a cafe down the road followed by a stop into the camera store to buy some film/disposable cameras for the day.
We started at Shaun and Holly's place in the city where we sat in the sun for hours drinking aperol spritz, dark and stormy's and beers, played around with guitars and camera and listened to music up until around 3:00pm when we realised we should head into the festival to check it out.
Some of our favourite acts were Rex Orange County, Skegss, Methyl Ethyl, Cosmos Midnight and Crooked Colours.
For outfits, Shaun and I wore tees and jeans, I had some rips to let in some breeze. I usually keep my styling pretty simple and clean depending on the event.
The girls were looking groovy as in there Wrangler denim. Holly was rocking the Hi bells flares with the vintage look Revel Ringer tee while Eden was rocking the denim shorts with the Established Tee.
Ended up hitting the afterparty and some bars followed by some late night take out hahaha.
Thanks for an epic time Wrangler!
Wrangler Blog
At Wrangler our motto has been the same since the beginning. It's all about the jeans. Designed locally in Australia for free-spirited individuals, who live by an underlying sense of adventure and freedom.
Contributors

We at Wrangler Australia are a small and dedicated team who absolutely love denim. Contributors include our designers, marketing team and our collaborating friends.
Read posts >
Post of the Month
The Wrangler X fallen BROKEN street exchange party took place last Saturday from 11:11 as a pre Splendour shindig at one of the last great country pubs - the Billinudgel Hotel.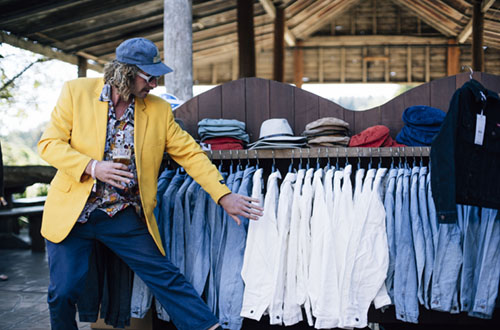 Read Post >
Instagram @WranglerAustrailia