Jack River
Arguably one of Australia's most exciting artists of the moment, Jack River, AKA Holly Rankin, simply cannot sit still. While she's about to release her much-anticipated debut album Sugar Mountain; it's not just about the music for this girl; community, equality, politics and environment infiltrate every inch of her being.
Rankin, along with a team of local mates, is responsible for Grow Your Own Festival – a community enriching festival in her hometown of Forster highlighting the music, arts, agriculture and businesses of the area. Holly also heads up Electric Lady, a platform that aims to amplify the strength of women in music, politics, science, sport and beyond. The movement has seen two hugely successful nights in Sydney and Melbourne, a dedicated stage at the recent Mountain Sounds Festival and a stage at this year's Commonwealth Games 'Festival 2018' on the Gold Coast.
An artist in the truest sense of the word, an advocate for equality and change and a successful and inspiring entrepreneur – it's hard to believe this is just the beginning for Jack River and Holly Rankin. Check out her latest single Ballroom.
Who is Jack River?
Jack River is my alter ego, musical vehicle that I made when I was 17. She is an infinity obsessed, melody humming, diary writer, diver and dog lover. I'm about to go to the UK on my first International tour (May), then come home to release my debut album, Sugar Mountain.
And what about Holly! What's she up to?
Holly is on her laptop making Jack River world. She is working on Grow Your Own 3.0 And Electric Lady 2.0 - Figuring out how to run a company from a tiny wooden desk in a Redfern share house.
Freedom to me is…
The letting go of inner and outer boundaries, fearlessness.
I feel most free..
When I'm in unlimited nature, when I am looking into the eyes of another free human, when I'm the country by the ocean with my dog & brother. When my brain is overdosed with live music from an artist with no boundaries to their heart, when I'm learning something about nature that I didn't know.
What are the little things you do each day that make you feel most free?
Swim in the ocean at sunrise or sunset, writing down my dreams/visions in my diary late at night, thinking of all the things I love before I go to sleep.
When you're writing a new song are you inspired by your environment?
For me, songs mostly come beaming out of my mind/heart in a rush when I feel overwhelmed with emotion. Usually they don't care about where I am. However, I write almost every day in my diary and that's the place I look for lyrics to fill in gaps in songs, or self reflect or dream up the next thing.
I keep a big wooden desk at my home in Sydney, my parents house up north and my bf's house down south. These desks are clear, with only my favourite things allowed on top. I often I burn a candle and have fresh flowers from whatever garden is close.
Where do you take inspiration from for your performances + your outfits/style?
Nature and space, the idea of bringing the wonder of the night sky down and matching it with the future, and the earth below is how I wanna feel when I am on stage. Some place in between earth and stars and pointed toward the distant future where these things are more understood and appreciated.
Describe your upcoming debut album Sugar Mountain in 3 words…
Grit, glitter, lifetime.
You've just finished a string of national shows playing some of your biggest headline venues to date. How does performing your music like this make you feel?
It feels bloody great. Pre-show (in the days before) I am often secretly really scared and cant remember how much I love it. As soon as I'm on stage though, it all drastically changes and I can't remember who I am and what I'm doing and get instantly transported into a stronger, weirder, wilder space. I'm coming to realise how much the stage feels like home - though its a super strange concept that I'm still figuring out. Post show feels I'm often elated like getting off a rollercoaster - dizzy and excited and probably hard to relate to for everyone around me - I get waaaay too happy.
---
Talk us through your concept creation process for your beautiful music clips. Where do your ideas come from? How do they come to life?
When I'm making a song I write down everything I see/add it to Pinterest boards. By the time my label and I need to create the clip, there is often a complete feeling or whole video clip playing in my head. I've been lucky enough to find Matt Saville from Pavlova Films who has directed most of my videos to date. I take my vision to Matt (in decent detail), along with Pinterest boards and references right down to the angles. He takes it for a moment and comes back with something - often weirder and wilder than my original vision, and we press go. My best friend Ash Schumann (Arizona) comes on board to style and shoot the stills for the campaign - she has been across my vision since we were 15. We fly over to Perth, shoot it, edit it and start on the next one!
If you could travel back in time and show one of your musical heroes your work, who would it be and why?
I think it would probably be now, I think I would show my music to Lorde, Lana and Florence in a candle lit room on the floor. I'd take my diaries and lyrics and have a women's circle. These women are my absolute heroes and feel like kindred spirits from the same moment in time - I draw on Florence's deep spirit and boldness, Lana's reach out into space and love and Lorde's detailed/intricate mind and sense of fearless youth.
Ultimate road trip itinerary, crew and tunes?
My best friend Arizona, the West Coast of America, up into Canada then onto Alaska. Paul Simon, First Aid Kit, Joni Mitchell, The Beatles, Blink 182 and Bob Dylan. We'd hire a camper van, take an old camera, a guitar and some Nokia 3315's and probably steer off the highway east to Vegas and stay there the whole time by accident.
What's the strangest place you've ever played a gig?
Probably a pub on Stradbroke Island. There were only 6 people in there, and it felt like the bar staff just wanted us to get out. There was light beaming through the room, and a little girl dancing in the dust (that you see in crazy light in a room). A weird mix of strange and magic. I couldn't stop laughing it was so weird.
Indoors gig vs outdoor festival set?
Weirdly for me its indoor gig. I love drawing the crowd in and holding something there together and building on it. When playing outdoors its hard to grasp the feeling in the air, and make something of it. I'm sure that changes as your project gets bigger and there are more people feeding you a feeling.
Who/what is currently inspiring you most?
Elon Musk. It's so epic to know there is a technological and cultural leader like Elon detonating boundaries of thought, tech and science. Whenever I am struggling with a workload or facing a mental boundary I think of living/breathing humans who are doing so much more than me and who would have faced so much doubt before achieving what they have achieved.
Wrangler Blog
At Wrangler our motto has been the same since the beginning. It's all about the jeans. Designed locally in Australia for free-spirited individuals, who live by an underlying sense of adventure and freedom.
Contributors

We at Wrangler Australia are a small and dedicated team who absolutely love denim. Contributors include our designers, marketing team and our collaborating friends.
Read posts >
Post of the Month
The Wrangler X fallen BROKEN street exchange party took place last Saturday from 11:11 as a pre Splendour shindig at one of the last great country pubs - the Billinudgel Hotel.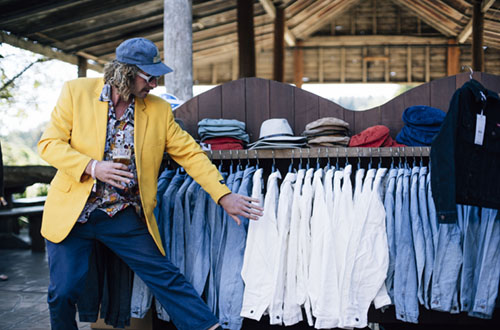 Read Post >
Instagram @WranglerAustrailia