I watched this movie the other day, and heard the old classic line "what do you want to be when you grow up?", "French."
It reminded me of model and design student Amanda Rosalina (@amandaaamus), who took me to her favourite French restaurant in NYC - Buvette - and over a glass of Rose she explained that whilst she's from Miami and lives in NYC, she really should have been French because of her love of wine, food and the Parisian lifestyle.
Her Mum owns a vintage store, and whilst she hooked Amanda up with the most amazing vintage Wrangler boiler suit, she refuses to tell her where she sources her curated picks, however was happy to share that the Midwest and South are the best for sourcing vintage pieces. If you're in NYC and looking for some vintage wares, check out Amanda's fave - Stella Dallas.
Her boyfriend, Lucas (@lucasnevadalong), joined us for a drink before he had to start work as a "bar back" at BERLIN, a Rock n Roll bar on 2nd Avenue. He works there part time to pay the bills, whilst spending most of his time rocking out in his basement with his band, The Britanys. They're recording an EP this summer, and are also planning to tour later this year - keep in the loop via thebritanys.com if you're travelling and keen to see them live.
Amanda's wearing our Hi Bells Cropped Jean in Day Dream Blue.
Lucas is in our Smith with the cuffs rolled down.
Read More >
The soulful sisters from Stonefield are back with a new album 'As Above, So Below'.
We had a quick chat with them in the midst of their album launch and scored their top 10 tracks of all time which you can find on our Spotify playlist; wrangleraustralia
Find out more about their new album launch and upcoming shows here or on their Facebook page.
Read More >
Wrangler Blog
At Wrangler our motto has been the same since the beginning. It's all about the jeans. Designed locally in Australia for free-spirited individuals, who live by an underlying sense of adventure and freedom.
Contributors

We at Wrangler Australia are a small and dedicated team who absolutely love denim. Contributors include our designers, marketing team and our collaborating friends.
Read posts >
Post of the Month
The Wrangler X fallen BROKEN street exchange party took place last Saturday from 11:11 as a pre Splendour shindig at one of the last great country pubs - the Billinudgel Hotel.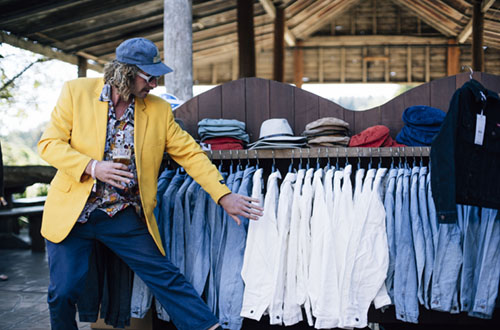 Read Post >
Instagram @WranglerAustrailia