Wednesday
February 1
2017
For Autumn/Winter 17 Wrangler presents a cinematic impression of rebellious youth. Waiting for the Sun pays homage to their rock 'n' roll roots.
When the weather gets colder all we can do is wait for the sun and luckily Wrangler has created a collection that will help make those colder months pass with ease.
Just like playing your favourite record, this collection evokes the nostalgic jeans of yesterday with modern reincarnations for our future wardrobes.
Set against a raw desert landscape as isolated as the face of the moon, our cosmic lovers embody the freedom that is all too often associated with Wrangler and the musicians, rebels, drifters and beatniks that have worn our jeans.
This anti establishment sentiment is echoed throughout the collection with the appearance of anti fits for guys and girls in a selection of authentic rigid stone washes and comfort stretch options. For girls the offer includes the Drew Jean, a boyfriend jean re-imagined and the Hi Birkin, Wrangler's modern alternative to their iconic flare fit.
For the guys there is a selection of vintage inspired Sammy jeans, a slim fit cut from rigid denim and also the Stryker jean which is a comfortable alternative to skinny jeans. The souvenir jackets available for guys and girls are definite stand outs for the season, complete with custom embroidered details.
THIS AUTUMN WRANGLER INVITES YOU TO BUY THE TICKET AND TAKE THE RIDE.
View the full campaign gallery.
Photo & Film: @lagoon_collective
Models: @atlanticbonito_& @jaiostevens
H&M: @badisonv
Music by The Jim Mitchells @jim.mitchell
Read More >
WRANGLER PRESENTS
THE EXCHANGE PROJECT
Last year saw great success with our DENIM EXCHANGE at Sugar Mountain Festival – a unique and engaging twist to the music festival experience, that saw approximately 500 people donate a piece of wearable denim in exchange for a new pair of Wrangler jeans. We also had donation drop off points at General Pants Co stores, and all denim received was donated to The Salvation Army for resale to help those in need.
We're proud to announce we're returning with The Exchange Project in 2017, with the Denim Exchange present at both Sugar Mountain and Secret Garden Festivals. Festival goers can bring their unwanted, wearable denim to us, and walk away with a new pair of jeans or shorts feeling good that their donation is going to a good cause.
This year we're partnering with Launch Housing their mission is to end homelessness, and they deliver services to over 18,000 people each year from 14 sites across Melbourne. Their Education First Youth Foyer is an innovative department that provides affordable accommodation to youth who are either homeless, or at risk of homelessness, and combine this with education, training and employment. The program is for young people who want to study but can't live at home, and in exchange for the housing support, they study and also share their skills with their housemates.
Come and visit us at Sugar Mountain or Secret Garden for your chance to donate your old denim and support Launch Housing.
Read More >
Wrangler Blog
At Wrangler our motto has been the same since the beginning. It's all about the jeans. Designed locally in Australia for free-spirited individuals, who live by an underlying sense of adventure and freedom.
Contributors

We at Wrangler Australia are a small and dedicated team who absolutely love denim. Contributors include our designers, marketing team and our collaborating friends.
Read posts >
Post of the Month
The Wrangler X fallen BROKEN street exchange party took place last Saturday from 11:11 as a pre Splendour shindig at one of the last great country pubs - the Billinudgel Hotel.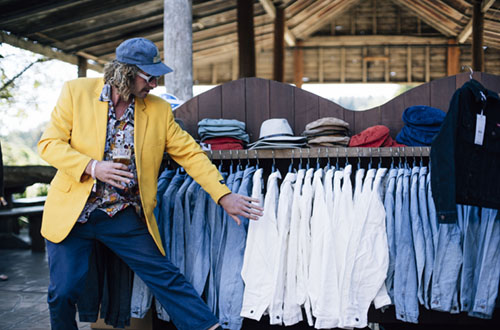 Read Post >
Instagram @WranglerAustrailia