The 1970s is an iconic time in fashion history — from stone washed jeans to bold blue shades to vibrant graphic tees. It was during this decade that Wrangler became a definitive brand of youth culture, and it hasn't looked back since.
Wrangler traces its origins to 1897 when C.C. Hudson relocated to Greensboro, North Carolina, and started working in an overall factory. Less than a decade later, Hudson founded the company that would become known as the Blue Bell Overall Company. In 1947, Blue Bell, which owned Wrangler, introduced the brand's authentic western jeans to the American consumer with a simple ambition; to create the world's best five pocket jeans.
Trends may have come and gone ever since, but Wrangler's focus has remained the same; it's all about the jeans. A non-compromising position, giving Wrangler its iconic status.
Wrangler Australia is designed in Melbourne by a small devoted team who work hard to bring you great quality denim and clothing. We work with the worlds best denim suppliers who uphold high ethical standards of practice to bring you heritage inspired collections.
Video by Joel Roche.
Read More >
Wednesday
December 6
2017
Ruby Fields casual approach to music has taken the Aussie music scene by storm.
We caught up with her backstage before her gig at Yours & Owls festival earlier this year in Wollongong where she gave us an insight into her chiller ways and her effortless sense of humour.
She calls herself an 'average chick', that started busking at the age of 13 and began playing at venues around Sydney. With only a couple of singles under her belt so far, the level of success that Ruby has experienced so far proves she is much more than your average Aussie muso!
She's recently released her killer new single 'P Plates' and completed a massive national tour and in her spare time she makes guitars.
Ruby, you are anything but averge in our eye.
Her lastest tune P Plates is about a broke kid who hitchhikes with her gizzie until she can afford a piece of shit from a shady car dealership.
You can see her play at Grow Your Own Festival later this year, get along!
Video: Cadillac Club TV
Read More >
Wrangler Blog
At Wrangler our motto has been the same since the beginning. It's all about the jeans. Designed locally in Australia for free-spirited individuals, who live by an underlying sense of adventure and freedom.
Contributors

We at Wrangler Australia are a small and dedicated team who absolutely love denim. Contributors include our designers, marketing team and our collaborating friends.
Read posts >
Post of the Month
The Wrangler X fallen BROKEN street exchange party took place last Saturday from 11:11 as a pre Splendour shindig at one of the last great country pubs - the Billinudgel Hotel.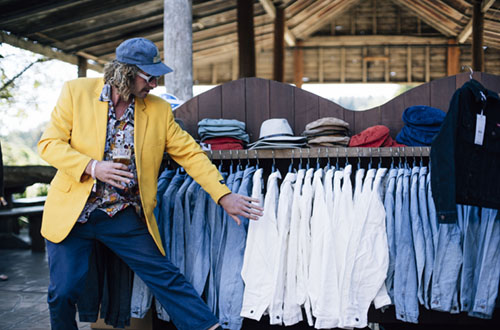 Read Post >
Instagram @WranglerAustrailia