Launch Housing delivers services to over 18,000 people each year from 14 sites across Melbourne. They work with and advocate for men, women, young people and children who are either homeless or at risk of homelessness. They provide short, medium and long term housing options within Melbourne, creating a safe place people can call home.
One innovative option they provide is the Education First Youth Foyer. By providing affordable accommodation combined with education, training and employment, Youth Foyers help break the cycle of homelessness, create opportunities, and help young people lead independent and fulfilling lives.
Launch Housing believe that in a country as wealthy as Australia, no one should be without a home. Their mission is to end homelessness.
Wrangler Australia is currently partnering with Launch Housing to provide both denim & monetary donations along with mentoring & work experience opportunities to students of their innovtive and incredible Youth Foyers.
To gain an understanding of the Youth Foyers read on for some Q&A's with some of their current students...
Images by ALYSSMN x PHOTO
BY GABRIELLA COHEN & KATE 'BABYSHAKES' DILLON
Plane to Singapore, 3 movies later, plane to London, about 8 movies later and 20 servings of warm towels (not complaining, warm towels are amazing), we arrive in London. Our GPS speaks in a very polite English accent. We are supporting Wooden Ships. Our rider is a pint, pie and mash, and DOGS ARE ALLOWED INSIDE. Then I started thinking while I saw on stage, 'wow Christianity really took off here back in the day'. Felt very significant to be playing to a room of white guys who live there because their forefathers never left the mainland. Our air bnb host has decorated the apartment with his own art. Large canvases of oils in various monochrome pallets.
Wrangler Blog
At Wrangler our motto has been the same since the beginning. It's all about the jeans. Designed locally in Australia for free-spirited individuals, who live by an underlying sense of adventure and freedom.
Contributors

We at Wrangler Australia are a small and dedicated team who absolutely love denim. Contributors include our designers, marketing team and our collaborating friends.
Read posts >
Post of the Month
The Wrangler X fallen BROKEN street exchange party took place last Saturday from 11:11 as a pre Splendour shindig at one of the last great country pubs - the Billinudgel Hotel.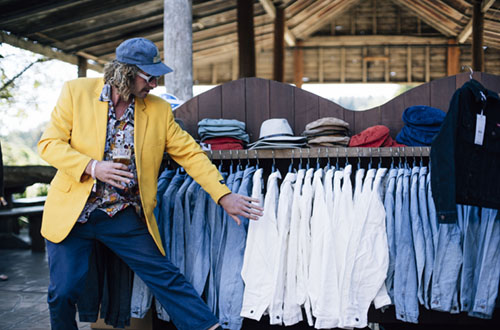 Read Post >
Instagram @WranglerAustrailia