Drawing & words by the gorgeous model, Chloe on the set of our latest Winter 2017 campaign shoot in outback Australia.
'We arrived out here mid-afternoon yesterday. Emus and kangaroos, shrubs and red dirt. The sky was wide and trackless. A silent, never ending blue that ran changelessly throughout the entire length of the journey. Not one curve in the road. This place is filled with so much wonder. Though i am hesitant to describe it more than that, in angst that the words may seem empty. Midday heat, desert delirium. The sun heating my black jeans. We watched the sun go down at 8:30 pm. Standing on top of the sand dunes, I couldn't quite believe the vastness of it all. The smoky haze over the landscape, so flat you could see tumble weed rolling for miles. As we walked back down the dunes I had the strangely appealing sensation that I was being crushed by the inky violet sky. There is something isolating about the desert, that makes me feel alive. The next day brought a cool biting breeze with it as we shot through the half-light of the morning. The sand-pink and creamy. We danced to "Ring of Fire" by Johnny Cash, everyone's faces reflecting off the sun that was now making its grand entrance. Jai and I ran as Tim and Ed shot, and I thought I could maybe run forever. Trying to contain my excitement in a quiet bid to ensure people still thought I was sane. Which I'm quite sure was already out the window. We borrowed a dirt bike from a man named Tom (who owns over 120 000 acres of land here). Jai rode mindlessly through the infinite golden grass, me on the back, kicking up dust on the tracks and disappearing into a cloud of red smoke'.
Read More >
The Wrangler free spirit is ever present, in our latest Winter Collection.
Our men's range fuses down town skate influences with neo western undertones, to create a modern mix of essentials that will last the seasons.
With a nod to our heritage, the Sammy is available in Selvedge denim; authentic, durable premium quality denim, with added stretch for comfort.
Paying tribute to the free sprit of a touring song bird, our women's range features looser fits in destructed denim. The open road is calling, and our Hi Birkin jumpsuit is just the answer.
All you need is blue jeans, baby.
View the full campaign gallery.
Photo & Film: @lagoon_collective
Models: @atlanticbonito_& @jaiostevens
H&M: @badisonv
Read More >
We were overwhelmed once again by the geneoristy, support & interest that Sugar Mountain & Secret Garden Festival goers showed in the Wrangler Exchange Project.
Thanks to all those that donated at these festivals! We ended up donating over 600 pairs of wearable denim to Launch Housing & Brotherhood of St Lawrence along with plenty of brand new Wrangler threads for the students at Launch Housing's First Education Youth Foyers in Melbourne to enjoy. We also collected over $500 to donate to the foyer & will continue to collect monetary donations along with offering ongoing support to their students through mentoring & work experience programs.
Launch Housing's mission is to end homelessness, they deliver services to over 18,000 people each year from 14 sites across Melbourne. Their Education First Youth Foyer is an innovative department that provides affordable accommodation to youth who are either homeless, or at risk of homelessness, and combine this with education, training and employment. The program is for young people who want to study but can't live at home, and in exchange for the housing support, they study and also share their skills with their housemates.
Find out more about Launch Housing
Find out more about Launch Housing's Education First Youth Foyer
Check out the LWA gallery from Sugar Maountain festival here
Read More >
Wrangler Blog
At Wrangler our motto has been the same since the beginning. It's all about the jeans. Designed locally in Australia for free-spirited individuals, who live by an underlying sense of adventure and freedom.
Contributors

We at Wrangler Australia are a small and dedicated team who absolutely love denim. Contributors include our designers, marketing team and our collaborating friends.
Read posts >
Post of the Month
The Wrangler X fallen BROKEN street exchange party took place last Saturday from 11:11 as a pre Splendour shindig at one of the last great country pubs - the Billinudgel Hotel.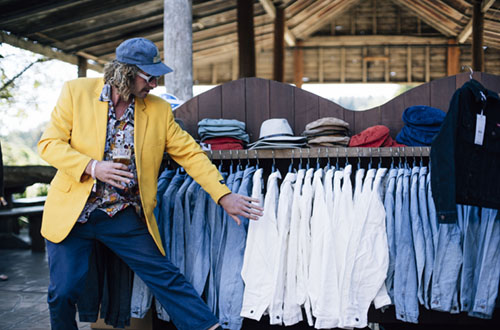 Read Post >
Instagram @WranglerAustrailia