All female movement Electric Lady will make its debut as a band night at Sydney's Metro Theatre on Friday, June 30 and Melbourne's The Corner Hotel on Saturday, July 1.
Presented by The Hopeless Utopian and triple j, the night across both cities boasts a solid lineup with electric ladies Ali Barter, Alex Lahey, Jack River, Gretta Ray, Bec Sandridge, Rackettand Body Type.
Electric Lady is inspired by the movement of women electrifying their voices, guitars and rights across the world. Australian Musician Holly Rankin (Jack River/Director of The Hopeless Utopian) developed the idea around conversations with fellow musicians Ali Barter, Alex Lahey, Montaigne, Lisa Mitchell, Kita Alexander and Gretta Ray (to name a few) about the incredible surge of women in music and how powerful it would be to join together to amplify this. "The last year in music, politics and culture made me realise the time is now for this idea. Girls are ready to amplify their talent alongside each other, and the world is ready for diversity in female role models," Holly said.
More than a band night, Electric Lady will be a platform to amplify the strength of women in music, politics, science, sport and beyond. As of this week, the band night's Instagram account @electricladyworld will be posting interviews with electrifying women from all fields including Stephanie Gilmore, Isabel Lucas, Tyler Wright, Katie Mack, Belinda Pavlovic, Molly Taylor and more.
Find out what inspires these electric ladies:
Gretta Ray covering Jack River: https://youtu.be/ys7p_NckevY

Read More >
Wrangler Blog
At Wrangler our motto has been the same since the beginning. It's all about the jeans. Designed locally in Australia for free-spirited individuals, who live by an underlying sense of adventure and freedom.
Contributors

We at Wrangler Australia are a small and dedicated team who absolutely love denim. Contributors include our designers, marketing team and our collaborating friends.
Read posts >
Post of the Month
The Wrangler X fallen BROKEN street exchange party took place last Saturday from 11:11 as a pre Splendour shindig at one of the last great country pubs - the Billinudgel Hotel.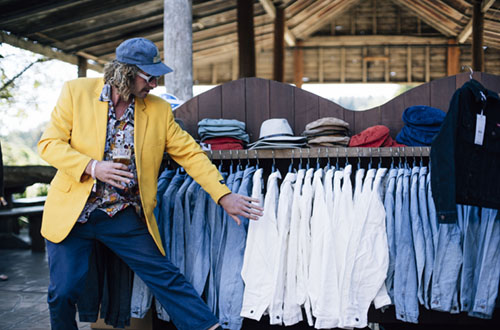 Read Post >
Instagram @WranglerAustrailia