Did you miss out on all the fun at Mountain Sounds 2018? Now's your chance to catch up on all the festival goss! We sat down with our mates Ash Davis and Todd Panaho to talk tunes, tinnies, and top 5's from their day as Mountain-eers.
1/ Fav performance and why?
A: Gang of Youths. They've been on the live music bucket list for a while. And to watch David Le'aupepe gyrate his way around the stage was incredible.
T: Gang of Youths. Because, Gang of Youths.
2/ What was the craziest festival get up you spotted?
A: In the midst of the mosh pit I spotted a guy wearing a flower shift dress, parading around a $10 pram with a very dirty underdressed Baby Born strapped in. And I take my hat off to the girls who spent four to five hours braiding their hair into eccentric extensions, it looked epic.
T: Having a Magic Mountain theme on Day 1 definitely set a standard of crazy outfits. The matching group outfits were really imaginative.
3/ What's your number one festival tip for festival newbies?
A: Drink loads of water. It sounds sad, but you need the hydration to last the day and night.
T: Wear comfy shoes to dance in all day.
4/ What's your fav Mountain Sounds memory?
A: So hard to choose just one! Probably Night 1, coming off a high after Gang of Youths and getting gritty in the dinosaur disco rave with TP. Or possibly when we did a shoot on the main stage.
T: It's a tie between espresso martinis and Gang of Youths.
5/ Gang of Youths or Amy Shark?
A: Amy Shark, my alter ego.
T: Did I mention I like Gang of Youths?
6/ Beers or Pimms?
A: Beers, double parked.
T: There's nothing better than cracking a tin at a hot summer's festival.
7/ Ones to watch- who's going to blow up at next year's Mountain Sounds – your 2019 prediction?
A: I think DMA's are in with a chance. Or even Motez coming back to headline next year would be amazing.
T: The return of Hayden James or The Presets.
8/ What are your top 5 festival essentials?
A: Comfy boots, a vintage tee, maybe a little emergency kit with supplies such as band aids, Panadol and sunscreen, and a killer hat, cause fa-shun.
T: Good vibes, speed dealer sunnies, a backpack, no glitter, and meeting like-minded people.
9/ You're stuck on a deserted island – only one act from the Mountain Sounds line up can save you – who do you pick, and why?
A: The Gang of Youths. There's so many of them, we'd have a higher chance of survival. And if not, they'd be entertaining as hell.
T: Fisher. Hopefully he'll save us on his magic party bus.
10/ If Mountain Sounds were a cocktail what would it be and why?
A: Apparently there's such a thing as a Unicorn Margarita. It's pink and purple and the rim is salted, sounds like something Charlie would drink up on the mountain.
T: A Zombie cocktail. It's made of fruit juices, liqueurs and various rums. Like the festival, this cocktail brings you back from the dead.
Read More >
Wrangler Blog
At Wrangler our motto has been the same since the beginning. It's all about the jeans. Designed locally in Australia for free-spirited individuals, who live by an underlying sense of adventure and freedom.
Contributors

We at Wrangler Australia are a small and dedicated team who absolutely love denim. Contributors include our designers, marketing team and our collaborating friends.
Read posts >
Post of the Month
The Wrangler X fallen BROKEN street exchange party took place last Saturday from 11:11 as a pre Splendour shindig at one of the last great country pubs - the Billinudgel Hotel.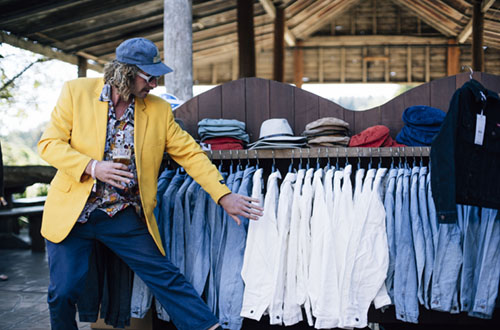 Read Post >
Instagram @WranglerAustrailia