I'm a singer songwriter/musician, and part time retail grinder residing in the concrete jungle of Melbourne. I'm just about to release my first single for the year, which is the first of many songs set for release this year.
What does Freedom mean to you?
I see freedom as a momentary appreciation of the present. Its just being, without any cares of an outside perception or bad energy. It can be a feeling of liberation, relaxation or simply just a moment of release from any bullshit.
A creative who works as a hair colourist by day and records pod casts with her best friend at night, @leahhofffman of @shagthreads also somehow finds time to hand stitch
70's inspired designs onto garments. This bespoke jacket took over 30 hours of stitching to complete.
Tell us a bit about yourself
Currently (and for the last 15 years) I'm a very busy hair colourist in Nashville. I am booked through most of the year, but when I'm not behind the chair.. I'm stitching on
things, playing with my fur babes, travelling and living life with my husband.. oh and I just started a true crime podcast with my best friend Mags. I keep myself pretty busy.
I like it that way.
On June 14th our Freedom Campaign came to life!
The Freedom campaign is all about shining the spotlight on people who inspire others by doing what they're passionate about. People who create, who discover, who use their voice, people who are fearless and free to be themselves.
We've been very fortunate to work with a number of highly talented individuals that embody this ideal, many of whom had their artistry on display – The Jim Mitchells, Tim & Ed of the Lagoon Collective, Ryan Brabazon, and Leah Hoffman. Thanks for showing us what Freedom means to you.
Wrangler Blog
At Wrangler our motto has been the same since the beginning. It's all about the jeans. Designed locally in Australia for free-spirited individuals, who live by an underlying sense of adventure and freedom.
Contributors

We at Wrangler Australia are a small and dedicated team who absolutely love denim. Contributors include our designers, marketing team and our collaborating friends.
Read posts >
Post of the Month
The Wrangler X fallen BROKEN street exchange party took place last Saturday from 11:11 as a pre Splendour shindig at one of the last great country pubs - the Billinudgel Hotel.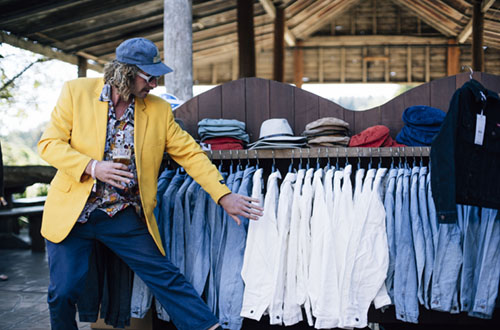 Read Post >
Instagram @WranglerAustrailia