Thursday
September 27
2018
Tell us a bit about yourself? What you do, where you are, what's coming up?
I am a jewellery designer & maker, sculptor, beach and nature lover. I just moved back to Sydney after spending a couple months in Europe travelling and working. I presented my Resort collection in Paris and then went hiking in Northern Italy and drank far too many Aperol Spritz in Capri. When I returned home I worked on production for my Spring/Summer jewellery collection orders and created sculptures for Sydney Contemporary Art Fair. Right now I am trying to catch my breath, it's been a big year so far.
Describe yourself in 5 words..
Determined, passionate, creative, restless and excitable. In one word… Intense.
Tuesday
September 11
2018
Free to be by the Sea
We set our sights on taking you back to the 90s with our latest Swim and Physical collection. Feeling confident in our bold colours and retro stripes, the girls hit Byron Bay's golden sandy shores, immersing themselves in nature. Soaking up the salty air and afternoon sun, they shared with us what is it about the sea that makes them feel free.
Describe yourself in 5 words:
Lani: Grooviest dancer on the floor.
Shaanti: Crazy, quirky, loud, caring, sensitive. In other words (I'm all over the shop!)
Mahlia: Fun, adventurous, caring, loving, funny.
Shaanti in the Logo Eva Bikini Top Flame
Shaanti in the Logo Eva Bikini Bottoms Flame
Wrangler Blog
At Wrangler our motto has been the same since the beginning. It's all about the jeans. Designed locally in Australia for free-spirited individuals, who live by an underlying sense of adventure and freedom.
Contributors

We at Wrangler Australia are a small and dedicated team who absolutely love denim. Contributors include our designers, marketing team and our collaborating friends.
Read posts >
Post of the Month
The Wrangler X fallen BROKEN street exchange party took place last Saturday from 11:11 as a pre Splendour shindig at one of the last great country pubs - the Billinudgel Hotel.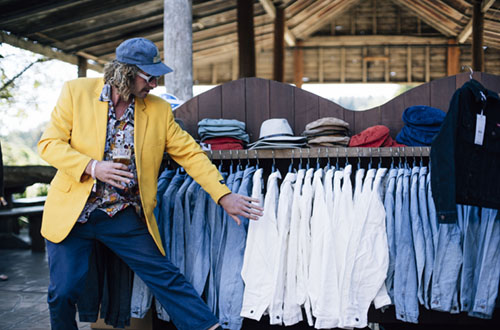 Read Post >
Instagram @WranglerAustrailia