Jeremy and his mates headed along to a massive new year's festival with a bunch of disposable cameras & Wrangler threads for a day full of festivaling and all that comes with it. Here's what went down!
Shop the Established Tee Worn Black
Shop the Spencer Chopped Jeans
Tell us a bit about yourself?
Hey there Wrangler, I'm Brodie a 36 year old Aussie bloke, freshly married running a tour company in Lagos Portugal called Vagabundo Travel. I've pretty much been a vagabond since I finished my honours degree in public relations way back in 2006. Travelling the world and setting up shop in Portugal away from all the fun police. I've just left Lagos for the off-season driving a campervan up to Jess's (my wife) home in Leicester and we're now taking off to honeymoon the shit out of it in Thailand and Australia until our return to Lagos next April.
Tell us a bit about The Sauce?
The Sauce is a creative studio based out of Sydney's Northern Beaches. It was formed back in 2014 by a group of friends who all share a love for creating. Now we are a full service production company / design studio and lately we've been delving a lot into the music world & artist management and aside from Ocean Alley we've recently taken on Eagle Eye Jones, who you must check out. We've been working very closely with Ocean Alley for the last 4 years and that takes up a lot of our time. With them we're currently working on a bunch of new music video concepts as well as a complete re-brand and a new summer merch range to be released in the next few weeks. That's about all we can say for now.
Wrangler Blog
At Wrangler our motto has been the same since the beginning. It's all about the jeans. Designed locally in Australia for free-spirited individuals, who live by an underlying sense of adventure and freedom.
Contributors

We at Wrangler Australia are a small and dedicated team who absolutely love denim. Contributors include our designers, marketing team and our collaborating friends.
Read posts >
Post of the Month
The Wrangler X fallen BROKEN street exchange party took place last Saturday from 11:11 as a pre Splendour shindig at one of the last great country pubs - the Billinudgel Hotel.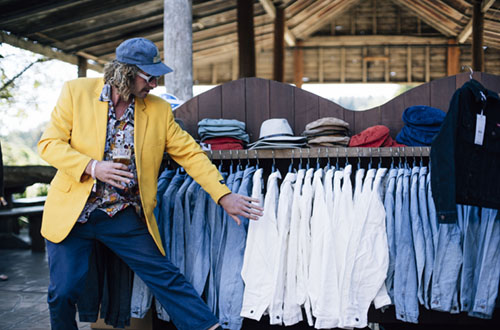 Read Post >
Instagram @WranglerAustrailia