Tell us a bit about yourself! What do you do? How did it all start? What you've been doing/what's coming up?
I'm a Chainstitch Embroidery artist, musician & designer from the Northern Beaches of Sydney & currently living in Venice, California. Apart from my art work, I have a passion for surfing & travel, both of which are strong sources for my inspiration to create. I originally moved to the US in 2008 to pursue my music career & about 5 years ago, I became fascinated with the art of Chainstitch Embroidery. I was drawn to the incredible stitching on band & motorcycle jackets & my research into Chainstitch Embroidery art, revealed that this very old art form - which can only be summarized by describing it as drawing on fabric with thread - can only be created by hand, on specific vintage machines. The whole art form & detailed creative process really resonated with me & I decided to teach myself. Chainstitch Embroidery art, & my passion for all things vintage was a perfect partnership, & thus AMR was born.
G'day I'm Zac White & recently I took a trip to the East Coast from Perth, with my girlfriend Brodie, to go to Mountain Sounds Festival.
Unfortunately just one week out from the festival it was cancelled, but luckily we had booked to hire an epic 1985 Tarago van, which was going to be our festival home.
This was a blessing in disguise, as it meant that we had an impromptu road trip ahead of us to explore NSW.
How good is that? Having the freedom to travel and to adjust plans last minute with barely any limits.
Wrangler Blog
At Wrangler our motto has been the same since the beginning. It's all about the jeans. Designed locally in Australia for free-spirited individuals, who live by an underlying sense of adventure and freedom.
Contributors

We at Wrangler Australia are a small and dedicated team who absolutely love denim. Contributors include our designers, marketing team and our collaborating friends.
Read posts >
Post of the Month
The Wrangler X fallen BROKEN street exchange party took place last Saturday from 11:11 as a pre Splendour shindig at one of the last great country pubs - the Billinudgel Hotel.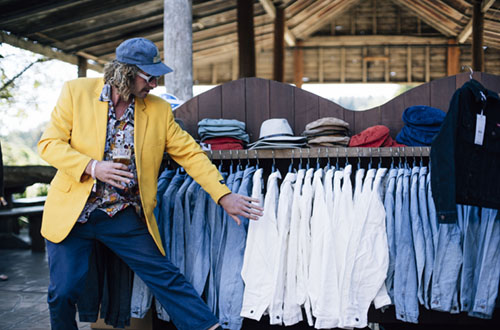 Read Post >
Instagram @WranglerAustrailia