In a world where musical authenticity is frequently undervalued and sporadically discovered, coming across a group like Velvet Trip can be something of a faith confirming experience for those with an appreciation for the psychedelic-blues of yesteryear.
Since their 2018 inception, the four-piece have released three 60's-inspired singles from Velvet Trip & The Six Moon Skies; 'Take Control', 'Hurricane', and 'All My Life I Was 12 Ft Tall And I Told My Tales Just The Same'. Add the sunkissed funk of 'Voodoo Cosmic Girl', along with powerful closing tracks 'Six Moon Skies' and 'The Man From The Blue Sun', and you have one hell of a debut.
Marianne wears the Firefly Top- coming soon!
Tell us a bit about yourselves & From Our Earth… how did it all begin?
Marianne and I met on everybody's favourite social media platform......... (Tinder) haha nah we actually met on Instagram. We had some mutual friends on Instagram from Portugal where I was staying at the time and where Marianne had been and was going back too. I spotted Marianne through a mutual friend's Instagram and left a cheeky comment on one of Marianne's, painted cheeky bum photos! After a few comments were exchanged, I then told Marianne to add me on Facebook, so we could talk easier, as I don't think Insta had private messaging yet haha. Lucky Marianne had already booked some tickets to return to Portugal, so we could meet in person. Marianne stayed with me in a little fisherman's hut I was renting and within 4 days or so days we were deeply in Love.
From Our Earth art, was manifested and sprouted when we moved to Byron, we had some big realisations when living in Adelaide about how much destruction big companies and the government were having on the Earth. We then saw how much these companies and governments were affecting the people and how unconscious everyone was about what they were buying and consuming. From Our Earth Art sprouted from this Awakening.
This Winter we find solace from those cooler days creeping in. Spending our days away from the hustle and choosing to laze around in the tranquil and crisp winter rays in what we believe is our cosiest winter collection to date that comprises of a modern mix of pieces inspired by both the past and present. It's time to rug up and make sure your wardrobe is primed for the winter ahead.
Jess wears the Bella Jean Sunday Blue and the Ziggy Tee White
Wrangler Blog
At Wrangler our motto has been the same since the beginning. It's all about the jeans. Designed locally in Australia for free-spirited individuals, who live by an underlying sense of adventure and freedom.
Contributors

We at Wrangler Australia are a small and dedicated team who absolutely love denim. Contributors include our designers, marketing team and our collaborating friends.
Read posts >
Post of the Month
The Wrangler X fallen BROKEN street exchange party took place last Saturday from 11:11 as a pre Splendour shindig at one of the last great country pubs - the Billinudgel Hotel.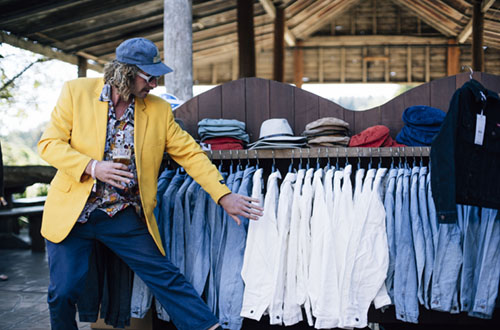 Read Post >
Instagram @WranglerAustrailia