FREE TO EXPRESS SERIES: PROFILE #2
Tell us a bit about yourself?
I'm a born and bred country boy who moved to the concrete jungle of Melbourne when I finished school to try and pursue a career in sport, which somehow did a full 180 and became a full time musician. I'm a singer songwriter, dabbling in the world of folk/roots/rock. I've spent the past 4 years releasing music and touring Australia whilst working part time in retail, which lead onto opportunities of being played on the radio, supporting artists like The John Butler Trio, Ocean Alley & Tash Sultana both in Australia and overseas.
This year I recently quit my day job and have taken music full time. I'm looking forward to releasing as much music as possible, I'm pretty keen to release my first full length album this year.
---
Describe yourselves in 5 words…
Fast, Optimistic, Charismatic & Open
You've just toured around Australia! Give us the low down!
I'd say this tour was a success in most areas, most of all it was one of the more enjoyable tours I'd done in a while. I guess to be travelling with my band mates around the country with plenty of laughs along the road was the best part. We did shows in Byron Bay, Brissy, Melbourne, Sydney, Northern beaches & Adelaide which was my biggest headline tour to date. It was nice to have some pretty full rooms in each place we performed, which I guess was a bit of a pat on the back that people are connecting enough to what I'm doing creatively to spend $20 to come check out the live show. The lowlight was the nervousness of whether people were going to rock up to the shows or not as ticket sales were quite slow moving when I first announced the shows, but I was taken by surprise (Especially in Byron Bay when we packed out my favourite pub in Australia, The Beach Hotel).
You're a busy man! How do you juggle it all?
Coffee & Cigarettes. Haha, Nah I guess balance is everything. I've always liked living a fast life and trying to make the most of each day with whatever it throws. Creating my own opportunities is something I believe in. It's when I stop and have nothing to do when I don't feel at ease. I'm doing most of my work from home now, and recently did some reading on Feng Sui & re-arranged my house/bedroom to separate my creative/work space from my area of rest, and since doing that, I think I have been incredibly productive getting heaps of shit done and writing some of the best music I've written yet.
Tell us what we can expect from your live shows?
A compliment we received on the tour was "You know when people order a coffee in America and they ask for cream in their coffee, your show portrayed that you ask for cream without coffee" So I guess that seems that we like to dabble with some pretty smooth cruisy rhythmic melodic grooves blended with deeper lyrical wordsmith. We've been incorporating some great Psychedelic Visuals into the shows too which has added some great texture to the experience of the show.
Josh wears the Spencer Glory Days
What's the ultimate creative process for your song writing?
In the past it's always been a guitar riff or chord progression first, a vocal melody and then layers of drum beats, bass lines and synths after that, but lately I've reversed it and spent some time working on the drum beats & bass lines first which has really resonated with me, conditioning me to some instruments (drums/bass especially) in which haven't been my most thought about layers to my sound. Lyrically it has been great to co-write with other songwriters too and gain some ideas and insight to how other creatives work. So sometimes I might have a great piece of music and melody, but can't quite fit the lyrics I want into the songs, so working with other songwriters have been great for that lately.
Dream gig venue/festival to play at?
I look forward to performing at my dream hometown venue, The Forum Theatre in Melbourne someday, potentially as a side show for Byron Bay Blues & Roots Festival would be nice.
How do you stay inspired? Does it come and go?
It definitely comes and goes, but I seem to stay pretty motivated most of the time. If I lose inspiration I never force it to come back, and tend to step back and focus my attention onto something completely irrelevant to my work such as going surfing, or going out dancing with my friends, balance is everything to me. I have a few different things going on as well as creating music, my best mates and I just started an agency to throw some disco/techno parties around Melbourne, I think sharing my energy and concentration on a few different things in a balanced way definitely compliments all the things I have going on at one time.
If you could be a part of any other band past or present who would it be?
RHCP in the 90's.
Josh is wearing the Night Lights Tee White
Fave Melbourne hang outs?
My local, The Pacco (Pascoe Vale Hotel), The Coburg Lake Reserve, my backyard, my girlfriends balcony, Jack & Daisy cafe & Revs (every once in a while).
You're a long time Wrangler fan, what's your fave fit of Wrangler jeans/fave Wrangler item you own?
I've always loved and been a loyal purchaser of the Smiths, perfect length and fit for me so
I can show off my wheels. Also loving my new cropped Spencer, Glory Days, a bit of a lazier fit in a nice retro looking blue.
What does "Freedom" mean to you and when do you feel most free?
I see freedom as a momentary appreciation of the present. It's just being, without any cares of an outside perception or bad energy. It can be a feeling of liberation, relaxation or simply just a moment of release from any bullshit.
How does your work/lifestyle create freedom for you?
When I'm performing, whether that be on stage, in a studio or in my bedroom, I'm fully basked in that and only that, most of the time I feel as though all that matters at that moment is exactly what I'm doing which is either really vibing the sound/rhythm I'm creating, or concentrating on what I'm playing so I don't fuck up in front of the crowd haha. Finishing off a new recording of a song is also a nice release, you can spend a year writing and performing a certain song, spend 2 days in a studio trying to piece it together, and listening to that final master is quite a "f@ck yeah' moment.
Josh wear the Garageland Shirt Vivid Visions
Why do you think it's important for people to be able to express themselves?
Because sharing and expressing things with others is 99% of the time going to be better than just expressing and sharing something real with just yourself.
Anything else?
Love you Wrangler. #denimfordays
Have a listen on Spotify.
Follow Josh along on Instagram & Facebook.
Also, shop these styles over at Universal Store.
Wrangler Blog
At Wrangler our motto has been the same since the beginning. It's all about the jeans. Designed locally in Australia for free-spirited individuals, who live by an underlying sense of adventure and freedom.
Contributors

We at Wrangler Australia are a small and dedicated team who absolutely love denim. Contributors include our designers, marketing team and our collaborating friends.
Read posts >
Post of the Month
The Wrangler X fallen BROKEN street exchange party took place last Saturday from 11:11 as a pre Splendour shindig at one of the last great country pubs - the Billinudgel Hotel.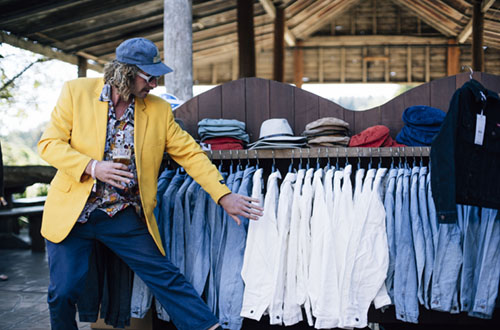 Read Post >
Instagram @WranglerAustrailia