Tell us a bit about yourself…
Howdy! My names Evan Roberts I'm a welder and furniture maker from Byron Bay.
I grew up in a small country town in rural NSW and finally made the trek north when I was around 22. I started welding and playing around with timber when I was 13-14 and instantly knew that it's what I wanted to do. I've been in business for myself for nearly 3 years now, its gets really tough sometimes but it's all worth it at the end of the day!
Evan wears the Every Street Tee
---
Describe yourselves in 5 words…
Chilled
Stoked
Aussie
Surfer
Dude
You're lucky enough to call the beautiful Byron Bay home, what are your favourite things about it?
My favourite thing about Byron Bay is definitely the surf and how many different options there is. It get super crowded especially in summer but you can generally find a wave somewhere that's not to hectic. Then there's the peaceful hinterland where you can go for a drive to a nice little cafe to escape the chaos of town.
Evan wears the Heritage Tee
Tell us about a day in the life of yourself…
Wake up
Coffee
Emails
Smoothie
Check surf
Surf (if there's waves)
Work
Gym or surf
Beer
Dinner
Sleep
Repeat
Whats your creative process for your pieces? How long would you spend on each item?
Pending on what piece i'm working on. If its an arch mirror, I usually spend a couple of hours here and there, it's a bit of a process waiting for paint to dry glue to set etc. If its a table setting it can take upto a full week. I usually have a few jobs going at once so multitasking has become a new skill haha.
What inspires you and your work?
Probably sounds a bit corny and cliche but I get inspired when I travel, I recently went on a trip to the states and Mexico which was so sick, it inspired me a bunch. I also get really inspired and have creative thoughts when I'm surfing, bobbing around out in the ocean is super peaceful and the separation from technology and screens makes my mind wander.
Evan wears the Heritage Tee
What's something new you have discovered lately?
Furphy tinnies and peanut butter & coconut protein balls.
You're a long time Wrangler fan, what's your fave fit of Wrangler jeans?
I grew up in the country, on farms, etc so Wrangler jeans have been a part of my working life for a long time. I would wear them as jeans through winter then cut them off for shorts in summer. I can't remember the model of the jeans back then but they were the standard-slim fit blue denim. Nowadays I change it up a bit, if I'm just hanging out or going to the local for a beer I wear the Anvil Destruct. If I'm skating or riding my motorbike I generally wear Strangler Reckless black!!!
What does "Freedom" mean to you and when do you feel most free?
Freedom to me is to be able to express yourself without any boundaries or anyone telling you what to do. Whether you're surfing, painting, riding, building, traveling without any rules and just generally not giving a F*#k about what anyone else thinks about you or what you're doing.
Evan wears the Shout Out Muscle
Why do you think it's important for people creatively express themselves?
Being expressive makes you who you are. It makes you an individual. It makes you chase your dreams and follow your passion. In my books it's a must, I spent so many years hiding under a rock just doing the old 9-5 slog, I was never fully happy! One day I just decided to bite the bullet, take the risk and go out doing my own thing, and I haven't looked back since. It's been a real game changer in my life, I've grown so much from it!
Anything else?
If anyone needs any advice about starting your own gig/business I'd be stoked to help you out, hit me up on Insta. I love helping people and inspiring people to get out of the norm!
Check out Evan's work here
Wrangler Blog
At Wrangler our motto has been the same since the beginning. It's all about the jeans. Designed locally in Australia for free-spirited individuals, who live by an underlying sense of adventure and freedom.
Contributors

We at Wrangler Australia are a small and dedicated team who absolutely love denim. Contributors include our designers, marketing team and our collaborating friends.
Read posts >
Post of the Month
The Wrangler X fallen BROKEN street exchange party took place last Saturday from 11:11 as a pre Splendour shindig at one of the last great country pubs - the Billinudgel Hotel.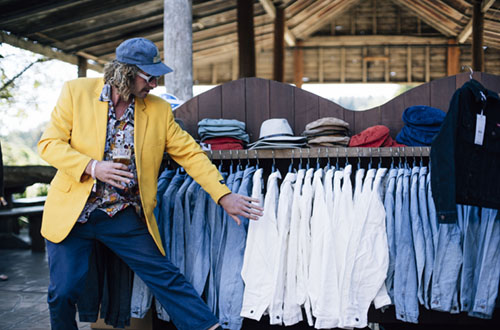 Read Post >
Instagram @WranglerAustrailia