CONTINUING TO INSPIRE...
CELEBRATING THE RELEASE OF BOHEMIAN RHAPSODY
Queen is one of the most eclectic and memorable bands from the 70's right through to current day. Both their success and impact on music, pop culture and social awareness live on to be a a legendary story. They were musical innovators and writers and their stage shows were of another level.
Freddie Mercury was undoubtedly one of the most vocally brilliant singers, with his incomparable range, to ever grace a rock stage. Who isn't moved to sing along when they hear these anthems right? His talents were transcendent, and he has been an inspiration to many.
---
Mercury was a style icon and his costume and fashion credentials have left a lasting legacy. He is responsible for some of the era's best outfits, including a head-to-toe sequin catsuit and even dressing up as a repressed housewife in a leather skirt and pink top for the video of "I Want To Break Free". He regularly sported military jackets studded with epaulettes on stage, but who could forget his iconic outfit at Live Aid Concert in 1985 of high rise, bleached back straight leg Wrangler jeans with a fitted white tank and leather belt.
To celebrate the recent release of the Bohemian Rhapsody (which includes the full Live Aid movie performance not seen in cinemas – only on Blu-ray, DVD & Digital), we decided to spend some time reflecting on what impact Queen, and in particular Freddie Mercury, has had on the Wrangler Australia design team. We sat down with our Head Designer Elly Frangos to see how it's influenced her over the years and how they continue to influence her and her work today.
Elly: This outfi­t is probably the one that speaks to me the most out of all Freddie's fashion because he is wearing Wrangler jeans, and growing up I was lucky enough to watch Live Aid as a kid. I remember the sheer excitement as my family and all my cousins crowded around the TV and watched Queen perform for the biggest concert the world had ever seen, you have to understand that there had been nothing like this EVER!! Today as Wrangler's denim designer I am still so in awe of these iconic images with Freddie rocking his Wrangler's, bleached to their bones and in Wrangler's own signature Broken Twill. These jeans are a standout - Freddie is a denim demi-god!
Live Aid - Saturday 13 July 1985
Elly: Looking at Queen's style and music they stood outside of the 70s climate of rock and roll stardom, they were more theatrics and costume, they didnt want to be mainstream, they loved to break rules. I have read that Freddie Mercury took his style very seriously, stating "I dress to kill, but tastefully". Queen and especially Freddie had cheeky the sense of humour and exuded the sheer confidence to get away with anything...and they did so perfectly.
Elly: Growing up I loved all things Queen, I love these images of the band in particular because once again Freddie is wearing denim. It look's like he's got Wrangler jeans on again, I hope I'm right, but he's also wearing his ringer tee with the famous Flash logo from the movie Flash Gordon. I lovethe Flash logo for two reasons - when Freddie performed the crew used to make mini explosions on stage and people literally used to believe he was hurling thunderbolts on stage which is so legendary. Flash also speaks to me about Queen's fashion style and music, so hightened, so dazzling and cosmic. Queen did the entire soundtrack for the Flash Gordon and we had the movie and soundtrack on vinyl at home it was a huge favourite.
I could quote nearly all the lines verbatam and was put on so often that it deteriorated like stardust and unfortunatley it did not make it past my teenage years.
Elly: Freddie once announced that his sole aim with the band was to confuse people, or "make them gasp", according to Roger Taylor. "We're not really like anyone else."
Not to be outdone by David Bowie, Queen rocked traditional Kimonos on their 1975 tour of Japan. I love how Queen make bold choices and are so unafraid of breaking boundaries.
To sign off, we'll leave you with these awesome images of Freddie & Michael Jackson hanging backstage together.
Check out the trailer for Bohemian Rhapsody here.
Wrangler Blog
At Wrangler our motto has been the same since the beginning. It's all about the jeans. Designed locally in Australia for free-spirited individuals, who live by an underlying sense of adventure and freedom.
Contributors

We at Wrangler Australia are a small and dedicated team who absolutely love denim. Contributors include our designers, marketing team and our collaborating friends.
Read posts >
Post of the Month
The Wrangler X fallen BROKEN street exchange party took place last Saturday from 11:11 as a pre Splendour shindig at one of the last great country pubs - the Billinudgel Hotel.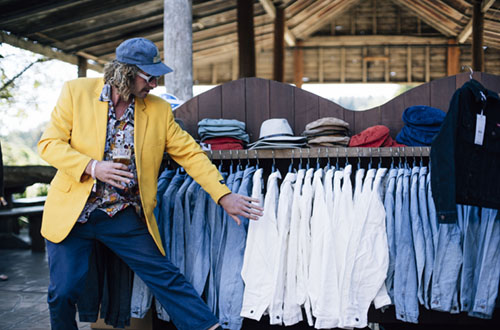 Read Post >
Instagram @WranglerAustrailia