RACQUET
Tell us a bit about yourselves
We're Sam and Chloe. We own and run Racquet Studio and Racquet Film, and also shoot for labels under Brescia Photo. Racquet Studio is Australia's largest (non-conventional) photo agency. Racquet Film is the lab division of the brand, which includes a showroom, gallery and store. The agency has run for around two years now and we've worked with around 40 photographers worldwide. At the moment we juggle shooting campaigns, developing customer's film, and taking enough time off.
Freedom to us is…
Shooting for brands we love. Mainly because when we've worked with a brand or label enough for them to know exactly how they'd like us to shoot a particular look or a setting, they have faith in us doing so, and that's a great freedom for us. I'm (Sam) from a marketing background, so I'm fairly good when it comes to understanding client needs. Chloe's from a stylist background, so she can make a lot of my ideas happen. It's a bonus that she's insanely talented with a camera.
Describe your life in 5 words…
Photograph, develop, edit, eat, sleep.
---
So how did you get into photography?
My mum was a professional photographer and got me into film at a very young age. Chloe started shooting five years ago, and when we met she began to take it more seriously. She started shooting a lot more fashion work and eventually we just started shooting campaigns together.
You're obviously big film fans, what do you love most about shooting film?
I think there's a big misconception about film. We shoot digital and film, and often times the client prefers the film shot. Though I don't think it's because it 'looks' better. Shooting film slows you down a lot, so you inherently become more aware of the composition of the photo and how it's going to turn out. You're also more careful with your shots, because each click of the shutter is a dollar or so.
Talk us through your creative process. How do you keep coming up with new concepts & locations?
When Racquet Studio started the idea was to shoot for a variety of brands during 'visual tours'. We'd eat, sleep and shoot with models and various photographers, stylists and creatives. The result was a really raw final product that brands ended up loving. Since the lab has come along, we tour less, though we still stay true to the idea that campaigns and brand shoots should be done in unconventional ways if anything significant is going to be achieved.
Where do you feel most inspired?
It's hard to match the feeling of arriving at a location you scouted and walking around it for the first time. Visualising shots and such can be very rewarding.
How did you come up with the idea of Racquet Studio? How did you build the contributors community and what have been some of the challenges and rewards of doing so?
For a long time, I worked in marketing. I would often see creatives exploited or underpaid for their services. I eventually felt like I needed a change, but my only other real interest was photography. I thought of a way to combine my marketing skills with my photography and make a creative agency that didn't take money from the creative, but instead made money through the strategic planning of large scale campaigns. It was a very foreign concept when it first started, and a lot of brands didn't really understand how it all worked, but slowly things picked up and labels saw the real value in it.
Bet you've met some interesting people…?
We've both met some insanely interesting people. I met one model who could nearly kill you with a single look. It was the best shoot I've done to date, but terrifying.
You've worked with an impressive portfolio of brands. What's one piece of advice you have for photographers who hope to shoot for fashion brands?
One piece of advice is hard, but there's a few simple things you should do or know. The first is understanding your worth. The second is sticking to what you're good at. The third is not taking jobs you don't feel comfortable with. Doing work just to pay bills can seem like a good idea, but it can damage your reputation in the long run.
What is/where is something/somewhere new that you've discovered recently?
Something new would definitely be podcasts. We've spent so much time doing task-based work – like film development – that having something else to stimulate us, make us laugh, or teach us something new, has become a pretty good semi-escape.
Tell us your most exciting/memorable discovery?
This might seem anticlimactic, though the first time I shot Newcastle blew me away. We shot about 12 brands there over 14 days, and the amount of amazing locations was just insane. Everyone was super chill and friendly, and it was such a nice tour.
What parts of travel do you enjoy the most?
It's cliché, but meeting new people and discovering new places is always going to top that one.
Dream shoot location?
Amalfi Coast or Morocco.
Ultimate muse to shoot?
Sam – Jena Goldsack
Chloe – Gigi Ringel
Ultimate road trip soundtrack?
We could argue about this for hours.
Wrangler Blog
At Wrangler our motto has been the same since the beginning. It's all about the jeans. Designed locally in Australia for free-spirited individuals, who live by an underlying sense of adventure and freedom.
Contributors

We at Wrangler Australia are a small and dedicated team who absolutely love denim. Contributors include our designers, marketing team and our collaborating friends.
Read posts >
Post of the Month
The Wrangler X fallen BROKEN street exchange party took place last Saturday from 11:11 as a pre Splendour shindig at one of the last great country pubs - the Billinudgel Hotel.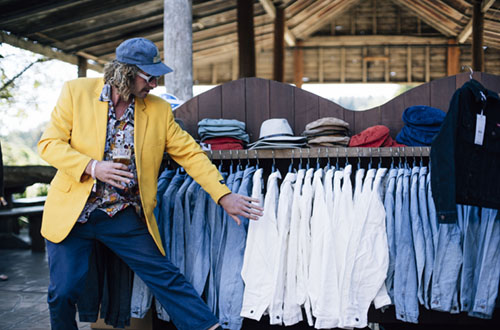 Read Post >
Instagram @WranglerAustrailia