Ryan Brabazon
Freedom to me is…
Living like you have nothing to lose.

I feel most free to discover when…
My mind is clear.

Describe your life in 5 words…
Yes, lets see what happens.

What is your greatest source of inspiration?
Travel.

What is/where is something/somewhere new that you've discovered recently?
Having recently moved to New York, I am discovering so many parts of the city and state that I never
knew existed.

How do you feel about sharing your adventures/discoveries with others?
I do enjoy sharing images of moments I capture whilst on my adventures but I have found that the
there is real wisdom in silence.

What parts of all your travels do you enjoy the most?
New experiences. Travelling along a route for the first time and not knowing what is around the
corner.

Talk us through your creative process.
I try to capture spontaneous moments of my subjects that portray a sense of freedom.
What do you love most about shooting on film?
You don't waste frames and you capture real moments...
Ultimate road trip itinerary, crew?
Wide open spaces and sunshine with my girlfriend, Constanze.

What are you listening to right now?
Kayex and The Vitriots
Wrangler Blog
At Wrangler our motto has been the same since the beginning. It's all about the jeans. Designed locally in Australia for free-spirited individuals, who live by an underlying sense of adventure and freedom.
Contributors

We at Wrangler Australia are a small and dedicated team who absolutely love denim. Contributors include our designers, marketing team and our collaborating friends.
Read posts >
Post of the Month
The Wrangler X fallen BROKEN street exchange party took place last Saturday from 11:11 as a pre Splendour shindig at one of the last great country pubs - the Billinudgel Hotel.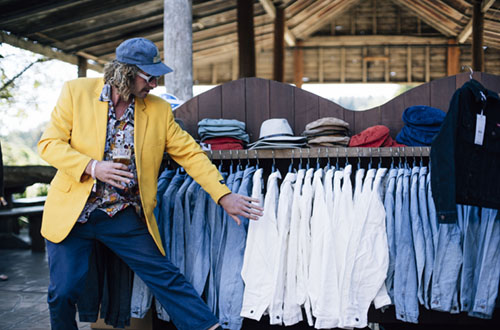 Read Post >
Instagram @WranglerAustrailia