Tell us a bit about The Sauce?
The Sauce is a creative studio based out of Sydney's Northern Beaches. It was formed back in 2014 by a group of friends who all share a love for creating. Now we are a full service production company / design studio and lately we've been delving a lot into the music world & artist management and aside from Ocean Alley we've recently taken on Eagle Eye Jones, who you must check out. We've been working very closely with Ocean Alley for the last 4 years and that takes up a lot of our time. With them we're currently working on a bunch of new music video concepts as well as a complete re-brand and a new summer merch range to be released in the next few weeks. That's about all we can say for now.
---
Describe The Sauce in 5 words…
Let's go back to the beginning… How did you guys get into photography/videography?
I guess we got into photography / videography at a very early age having cameras lying around the house and picking them up only to be fascinated by what they can do.
Ultimate shoot location?
To be honest when we went to Portugal with the Wrangler team and Ocean Alley that was a dream location for us, it was so beautiful and fresh. We love anywhere we can get off the beaten track and discover things we wouldn't normally see.
Ultimate creative process?
Our ultimate creative process is when we all work together on something fun and exciting and get to see it through from the very start right through to the end. We are best friends and love working together on projects, so whenever everything aligns nicely it is a dream come true for us.
You shoot a combination of digital and film, what do you love most about shooting on film? Do you feel this is an important aspect to bring out the emotion or feeling you are trying to convey in your photographs?
We absolutely love film. You just cannot beat it. We've been shooting film ever since we first started out and with each roll we shoot we learn more and more. There is no better feeling in the world than receiving your rolls back from the lab and sitting down cracking a beer and looking at them for the first time. Whether it be for a job or some personal stuff of friends from the weekend.
How do you stay inspired/what inspires you most?
We stay inspired by constantly surrounding ourselves with like minded people, we have so many friends who are artists, musicians, photographers, filmmakers who are always doing cool shit. The people around us and the places we travel to constantly inspire us.
What considerations contribute to choosing where you choose to travel? For work? For fun?
We love going to new places we haven't been. This year we've spent most of our time travelling the world with Ocean Alley, its been amazing. Every single day we get to see a new place we haven't been. Even if it's as short as the 5 minutes we get when we aren't driving, sleeping, emailing or stuck inside a venue. Next year is looking to be much of the same. Hopefully we can fit in some personal travel but time is of the essence. Most of us enjoy surfing so when we travel we try find waves.
Ultimate road trip itinerary, crew & soundtrack?
Can't beat a classic east coast Australian road trip. Grab a bunch of friends, fill the car with surf boards, beer and the other essentials. Soundtrack would have to be King Gizzards discography from start to finish.
What does "Freedom" mean to you?
Freedom to us means just having a good time, relaxing and being outside enjoying the beautiful world we live in with our friends. Last weekend we were down the south coast for a friend's birthday, we stayed in a house on the beach and got amazing surf all to ourselves with all of our closest friends on the beach. To us, that's freedom. I remember sitting in the surf with 3 of my closest friends just thinking, 'this is what it's all about'.
How does your work/lifestyle create freedom for you?
Our work / lifestyle creates freedom for us because we're our own boss. We have a studio we work out of and when things get tough, or you get stuck on an idea, we have the freedom to leave, go to the beach go for surf to clear our mind. Our lifestyle defines who we are and the work we do. We wouldn't want it any other way. Ever.
FAST 5:
Coffee or tea?
Sunrise or sunset?
Surf or skate?
Film or Digital
Beer or Tequila
Beer (although we do love tequila very much)
Wrangler Blog
At Wrangler our motto has been the same since the beginning. It's all about the jeans. Designed locally in Australia for free-spirited individuals, who live by an underlying sense of adventure and freedom.
Contributors

We at Wrangler Australia are a small and dedicated team who absolutely love denim. Contributors include our designers, marketing team and our collaborating friends.
Read posts >
Post of the Month
The Wrangler X fallen BROKEN street exchange party took place last Saturday from 11:11 as a pre Splendour shindig at one of the last great country pubs - the Billinudgel Hotel.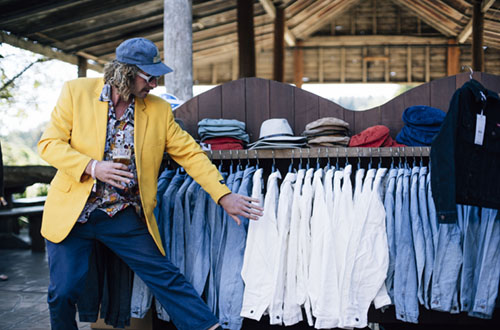 Read Post >
Instagram @WranglerAustrailia