We caught up with Monte and Jesse from the Delta Riggs post gig at Splendour 2015
---
Your sets are such high energy, how do you pump up before you go on stage?
M: We don't really ay.
J: A bit of Jameson
M: We usually go on more relaxed than we finish, you feed off the energy of the crowd
What are your thoughts on no encores at festivals?
M: I Like it.
J: I back that
M I back no encores always.
Do you get pressured to do them?
M: You do, but this is the thing. An encore was invented because you play your set and then you get called back.
J: If it's real, it's good. You should only do it if it's warranted, but all your hits should be played in the set, and the encore should be special.
M: It shouldn't be a planned thing. We're guilty. We should bring back the no encore.
How do you guys choose your on stage outfit?
M: We don't have an outfit drawer.
J: Whatever doesn't stink.
M: We're not Beyonce. You just wear whatever you want. We stick to dark colours because it's more rock and roll.
Is there any inspiration behind your hairstyles?
J: Oasis
M: in it bruv
M: No I don't know. As long as I have it, I'm f****n keeping it.
Wrangler Blog
At Wrangler our motto has been the same since the beginning. It's all about the jeans. Designed locally in Australia for free-spirited individuals, who live by an underlying sense of adventure and freedom.
Contributors

We at Wrangler Australia are a small and dedicated team who absolutely love denim. Contributors include our designers, marketing team and our collaborating friends.
Read posts >
Post of the Month
The Wrangler X fallen BROKEN street exchange party took place last Saturday from 11:11 as a pre Splendour shindig at one of the last great country pubs - the Billinudgel Hotel.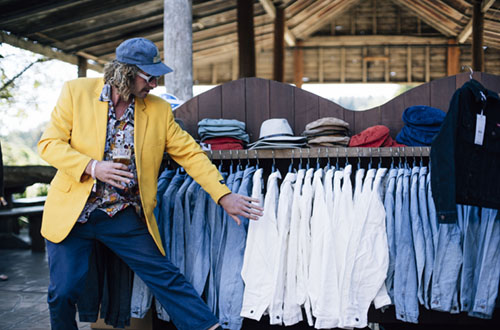 Read Post >
Instagram @WranglerAustrailia