Stacey Skates
Stacey, tell us a bit about yourself...
I have Roller Skated since I was very young - my mum took me to my first class when I was 3 years old at our local Roller Rink. I did the chicken dance on Roller Skates and instantly feel in love. My Dad then continued to take me Roller Skating every week for lessons, it was a Daddy daughter time, which soon turned into 3 times a week, which then turn turned into competing at a State and Nation Level in Artistic Skating, and I skated well into my teens. I left Skating to finish studding with a goal to travel around the world as much as possible, all I wanted to do was travel and see the world and moved overseas when I was 19.
I took 7 years off my wheels. When I came back to Australia, I didn't really know what I wanted to do, I hadn't figured out what career I wanted so I just started working for the money to travel more. A few years later started skating more regularly again through some performance and promotional work for friends' businesses. I realised how unfit I had gotten, but hated the gym, I could see a gap in the market at the time for fun fitness – so many people came up to me while I was skating and said they either used to skate when they were younger and loved it, or had always wanted to give skating a try. Given that pretty much all of the rinks in Sydney had closed down, I realised I had to find a new way to bring the love of skating to new people.
I designed RollerFit classes as a mix of skate skills and fitness. Our first venue was an outdoor basketball court in Sydney's Inner West! Six years down the track we have multiple (indoor) locations in Sydney, Bathurst, Newcastle, the Central Coast, and Melbourne. We have a RollerFit shop located at Tempe (Sydney) and online (shop.rollerfit.com.au). Since we opened over 4000 people have walked through our doors and put on a pair of skates, which makes me very happy!
Just around when I started RollerFit, I went on a holiday to NYC, I stumbled across Moxi Roller Skates in Urban Outfitters, so when I got back to Australia I contacted Moxi asking if we could have them in Australia, they told me to contact our distributor who at the time didn't have Moxi, I put in an order for 15 sets, they sold at my classes super quick and I fell in love with them.
I travelled to Barcelona on a Solo Skating Trip I booked my flights 2 weeks before, the day after I arrived I met the owner of Moxi Michelle aka Estro Jen, we were staying in the same accommodation, skated together for 2 weeks straight it was an amazing trip, at the time the Moxi Skate Team had been around for a few months and she asked me why I never tried out for the team. Truth be told I thought you had to do ramps to be on the team. After I told her that she asked me if I would be on the team. I was sooo happy. A month or so later I was announced on the team. I am so so so grateful to be a part of such an amazing team and community.
What's coming up for you?
So much Travelling!!! Which is what I have always wanted and to be able to combine my love Roller Skating and my love travelling so is a dream come true. In a week I am heading to USA for the Moxi Skate Camp via Canada to visit some friends of mine, whenever I travel I always try to make sure I have a way of sharing skating. I am teaching some Workshops in Vancouver, then heading to Long Beach to meet up with the Moxi Gals and going onto the Moxi Camp at Woodward West, which I am super pumped about. I come back to Australia for a month then I head to Portugal and Italy and will definitely do some skating while I am there. I also might have a few other travel plans in the pipeline but yet to be announced.
Freedom to me is…
Being able to put my Roller Skates on anywhere in the world to connect with fellow Roller Skaters, explore cites and create memories.
How does Wrangler connect with your personal style?
My style has always been street, functional with a splash of fun anything I can move freely in my Roller Skates with a pop of colour.
What are the little things you do each day to incorporate 'freedom' into your lifestyle?
Every day I either walk or skate down the street to the beach and look at the ocean for 10mins, it is what feels free to me.
Why do you do what you do?
To share my love for Roller Skating with the world and to help grow our amazing sport and community for holistic health and a balanced life. I love teaching Roller Skating its my passion and to see people smile on Roller Skates gives me all the amazing feels. I feel most free to be myself when I am able /open to discover, explore, create and connect while on my Roller Skates.
Where do you take inspiration from for your outfits/style?
Definitely from travelling, I love people watching when I travel to see what everyone around the world is wearing.
How does skating make you feel?
Roller Skating makes me feel alive.
Tell us a bit about your business, and what it's like to be your own boss.
I own and operate a Roller Skating Business, we host classes over 5 venues in Australia, run Roller Discos, kids' parties and have a store. I also own and operate a Roller Skating entertainment agency, for corporate events, performances, and more. Being your own boss is a crazy but fun roller coaster ride. I am in my 7th year and I finally feel in the groove. Although it comes with a lot of challenges I wouldn't trade it in for anything else. I am so grateful to be able to do what I love every day.
---
If you could travel back in time when would it be and why?
Back to the 70s, I would love to experience what it was like Roller Skating in the 70s, the music, the people, the clothing, and also to see David Bowie in Concert.
Ultimate road trip itinerary, crew and tunes?
USA Roller Rink and Skate Park Road trip with my RollerFit Team and Fellow #MoxiSkateTeam, with a healthy mix of Disco, Hip-hop, David Bowie and Paul Kelly music for all moods :D
Where's the craziest place you've ever skated?
In Vanuatu onto of my brothers 38ft Catamaran out a sea, taking balance to the next level.
Have you ever hurt yourself skating?
Yes, a few times to my Knee, an old injury that I never took the time to look after property. I have had surgery and since it's in much better shape but it's something I have to consistently manage.
Indoors vs outdoor skating?
Outdoors nothings beats exploring in fresh air on wheels.
Who/what is currently inspiring you most?
My brother, his wife and my 18th month old niece Xena, they live on the ocean and are slowly sailing around and exploring the world's oceans. I love that they're living the life they have dreamed of. It's inspiring to see people do what they love.
Wrangler Blog
At Wrangler our motto has been the same since the beginning. It's all about the jeans. Designed locally in Australia for free-spirited individuals, who live by an underlying sense of adventure and freedom.
Contributors

We at Wrangler Australia are a small and dedicated team who absolutely love denim. Contributors include our designers, marketing team and our collaborating friends.
Read posts >
Post of the Month
The Wrangler X fallen BROKEN street exchange party took place last Saturday from 11:11 as a pre Splendour shindig at one of the last great country pubs - the Billinudgel Hotel.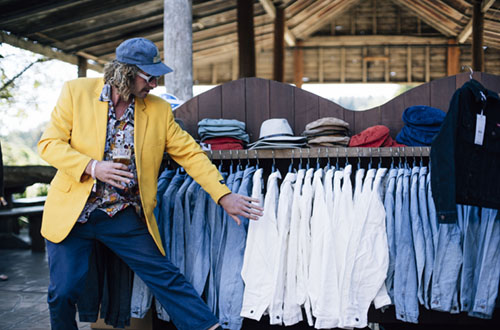 Read Post >
Instagram @WranglerAustrailia