Thursday
September 15
2016
Our muse is Brooke Meredith, creator of health and wellbeing blog, A Conscious Collection, and half of her latest venture Wyld Harts. She's a certified Health Coach with a deep passion for health and wellbeing. She's also a talented chef and creates all of her tasty, wholesome and gluten free recipes from scratch.
She has a strong following as one of the leading influencers in Melbourne's health food scene.
You can find out more at www.aconsciouscollection.com or via @aconsciouscollection or @wyld.harts
Tell us about a day in the life of Brooke
Well, to be honest, each day is so different to the next depending on my schedule. I like to start my morning off at the gym. I find my days much more productive If I've exercised in the morning, giving me an abundance of energy for the day ahead.
If I'm not meeting a girlfriend for brunch, you will find me at home cooking a hearty, healthy breakfast and eating it over emails.
I'll then head off to my studio in Richmond, where I'll work on current blog posts, collaborations and photograph recipes. My days are filled with writing, editing and working on current projects.
Throw in a meeting or two, a casting, multiple coffee breaks and sneaking out for a modeling job here and there. Life is pretty great.
---
Who/What inspires you?
People who are go getters, entrepreneurs with strong work ethics. People who are passionate about what they do really lift me up and make me want to be my bes
What's your best kept foodie secret?
If a recipe is failing, just add Cacao and it will save just about anything haha.
Best place to find fresh ingredients?
I love Prharan markets, or any markets for that matter. Produce is freshly picked and locally grown with minimal pesticides.
Favourite restaurants? Or a must have meal in Melb?
That's a tough one, we are so spoilt for choice here. My favourite breakfast spot would have to be Matcha MylkBar and Left Field.
What's the best advice you've been given?
" Its not how good you are, it's how good you want to be "
It's so true, and something that I really believe in. We are the only ones that can control how good we will be at something. It takes guts and strength to persevere when you are really passionate about something, despite not knowing all the answers.
What's your favourite way to get moving?
I love to box.
What are the top workout songs on your playlist? (separate note,
I actually just usually put on a pre-made spotify playlist, depending on the type of workout. If I'm feeling extra flat that day I'll put on something heavy to get me going haha.
Wrangler Blog
At Wrangler our motto has been the same since the beginning. It's all about the jeans. Designed locally in Australia for free-spirited individuals, who live by an underlying sense of adventure and freedom.
Contributors

We at Wrangler Australia are a small and dedicated team who absolutely love denim. Contributors include our designers, marketing team and our collaborating friends.
Read posts >
Post of the Month
The Wrangler X fallen BROKEN street exchange party took place last Saturday from 11:11 as a pre Splendour shindig at one of the last great country pubs - the Billinudgel Hotel.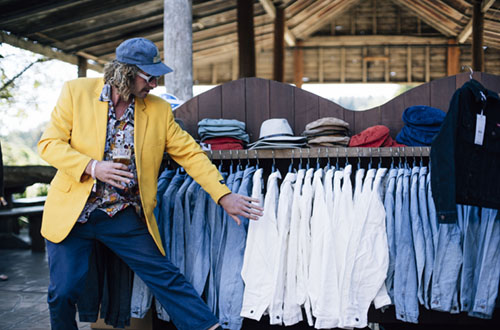 Read Post >
Instagram @WranglerAustrailia