Taylor Davis
Tell us a bit about yourself...
I'm 25 currently living in Bondi. I grew up in a frothy little surf town called Coledale; still one of my favourite places on earth. I enjoy surfing, riding motorbikes, board games and play/write music for a living. My jazz trio 'Brekky Boy' just filmed a music video on top of a mountain which was a lot of fun.
What does Freedom mean to you?
Having creative control.
When do you feel the most free?
Running along the beach absolutely stoked to surf a wave I've never surfed before or climbing a mountain somewhere.
Describe yourself/your life in 5 words…
Surf, piano, jazz, frothing, ASMR (look that one up).
How long have you been making music? What do you love about it?
Probs around 8 years. I love that it gives me purpose and will always progressively change with age and experience. At the moment I'm really into writing instrumental jazz but in 5 years it could be pop or grunge, and that's ok.
Who/what is currently inspiring you most?
Tigran Hamasyan. He's an Armenian jazz pianist. His stuff is so gnarly.
What's the best thing about surfing?
Getting pitted and saying 'yew'
How do you like to start your day?
I wake up at around 10am and ride my moto to the beach to surf. I can't focus on anything until I've surfed.
What projects do you have on the go right now?
My jazz trio 'Brekky Boy' just released our debut EP. We do a Justin Bieber cover on it - tinyurl.com/brekkyboysundog
We're playing a show on June 3rd at The Record Crate, Glebe with some other banging acts which will be mad fun.
What's one of the craziest experiences of your life?
Surfing a bombie out to sea in Western Australia on dusk was pretty scary. I saw a baby shark and couldn't help thinking where its mum was...
Name the best location you have ever played music in?
I was helicoptered to the top of a glacier on Mt Cook, New Zealand where they flew in a grand piano for me to play. It was one of the gnarliest/most random experiences I've ever had.
Images thanks to our mates at Papersea.
Find out more about Taylor Davis and Brekky Boy here www.brekkyboy.com or via Facebook or Youtube.
Wrangler Blog
At Wrangler our motto has been the same since the beginning. It's all about the jeans. Designed locally in Australia for free-spirited individuals, who live by an underlying sense of adventure and freedom.
Contributors

We at Wrangler Australia are a small and dedicated team who absolutely love denim. Contributors include our designers, marketing team and our collaborating friends.
Read posts >
Post of the Month
The Wrangler X fallen BROKEN street exchange party took place last Saturday from 11:11 as a pre Splendour shindig at one of the last great country pubs - the Billinudgel Hotel.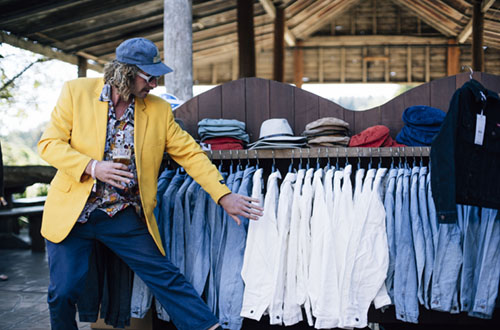 Read Post >
Instagram @WranglerAustrailia