The Jim Mitchells
The Jim Mitchells formed as the creative project of the band's frontman, Jim Mitchell, following his move from WA to Sydney's Eastern beaches. Having met Third Eye Stimuli Records' Josh Hutchins-Smith and Richard Snowden through mutual friends, the bedroom project transformed into a live band with Rick and Josh joining the group along with Lime Cordiale's Louis Leimbach and Dominic Barret. Renowned for their DIY approach, the group has since released an EP (Planet Absorbed, 2016) as well as their recent LP 'Love Hypnotic' (2018) via the independent label, opting to produce and mix the record's themselves in their home studio.
Following the release of 'Love Hypnotic' the band hit the road for their biggest National Tour to date, including sold out shows in Brisbane and Perth, as well as a slot at Mountain Sounds Festival on the Central Coast. With some exciting support shows looming throughout April and May, the band is looking forward to a busy end to 2018 before hitting the studio for their next release.
Freedom to us is…
For us- freedom is doing your own thing and owning your path. We operate pretty independently as a band and all of our releases have been self recorded and mixed as well as released through our own label; Third Eye Stimuli Records. In that sense the process is super 'free' and we don't really have anyone to answer to. We find that having total creative control inspires what we do and how we do it, which keeps things fresh for everyone.
We feel most free to express ourselves when…..
We feel the most freedom when we are performing live. Because the band is kinda split between a home recording project and a full live band, when we play live it's exciting and super satisfying to be playing as a group. It's really cliché; but performing for others creates a sense of adrenaline and release, and being able to express ourselves and transform recordings into a live setting is always liberating.
Describe The Jim Mitchells in 5 words or less.
Nice guys, good band.
Where do you find inspiration for your music and performances? When do you feel most inspired?
We're inspired by a lot of different bands and musicians dead or alive, local or foreign. I think that everything you witness, read, hear or experience inspires you in some way- or at least shapes your perception.
I personally take a lot of influence from The Beatles as well as Ty Segall and bands like Deerhunter but as a group we have a very wide range of musical interests, but also a lot of common ground. As a band I feel as though we're most inspired when we're spending lots of time together rehearsing or playing live. But personally I find the most inspiration for creativity if I step away from the band for a bit and find some alone time to write or record.
How long have you been making music together and what do you love about making music?
We began playing together in early 2016 but the project had been developing through bedroom recordings for a few years before that.
We do it because it's fun and it's expressive. For me it's an outlet as well, obviously in a creative sense but also for my mind. I like getting away into some headphones and just being in that zone for a bit.
What makes you happiest about what you are doing?
Probably just that we enjoy doing it. It's not like it's our job and we earn a pay-check- its like a fun other reality that we go and do apart from normal life-stuff. And so far we've been able to go on all these little trips as a group and play music, and meet different people and visit record stores and see new venues.
Hopefully we can continue being able to do that and involve more people and friends along the way.
What can a punter expect from your live show?
Lots of energy- we're an expressive live band. But also be prepared to dance and have fun n maybe wake up with a sore neck.
Ultimate Jim Mitchells road trip itinerary?
Generally we like to play as much as possible when we're on the road, stay in a shitty motel as long as it has a tv for some pre-show trash watching, and a pool- gotta have a pool. Plenty of mangoes and the odd visit to The Don aka The Clown never really hurt anyone.
What's the strangest place you've ever played a gig?
Our strangest gig to date was probably on our recent album tour in a small town outside of Melbourne. During our set a local lord jumped up on stage to live stream us on his facebook while he took over the microphone with his own interpretation of Jim Morrison-esque improv poetry. It was super cooked but he was a nice guy and we had a beer and a chat afterwards until he got kicked out haha.
Pub gig VS festival set?
Would have to say a pub or indoor venue gig. Festivals are fun, but an indoor venue is always going to sound better and it's easier to make the show your own.
Wrangler Blog
At Wrangler our motto has been the same since the beginning. It's all about the jeans. Designed locally in Australia for free-spirited individuals, who live by an underlying sense of adventure and freedom.
Contributors

We at Wrangler Australia are a small and dedicated team who absolutely love denim. Contributors include our designers, marketing team and our collaborating friends.
Read posts >
Post of the Month
The Wrangler X fallen BROKEN street exchange party took place last Saturday from 11:11 as a pre Splendour shindig at one of the last great country pubs - the Billinudgel Hotel.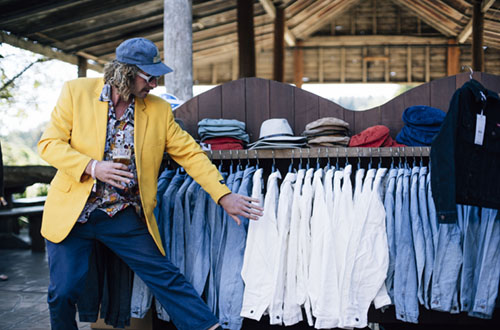 Read Post >
Instagram @WranglerAustrailia