FREE TO EXPRESS SERIES: PROFILE #1
Decked in his favourite Stranglers and shades from Childe – the latest Aussie brand on the scene building sunglasses for the rock 'n' rollers of today – Cal from Southern River Band hits up his fave spots in WA and talks about what freedom means to him.
Tell us a bit about yourselves…
G'day team! The band started after a man named Bear, no shit, complete with big ol' stainless steel rings that spell out Bear across his left hand, propositioned us one afternoon at the Thornlie Tavern and subsequently booked us a gig there. From there, we honed our 'craft' wowing the locals, blow-ins, piss wrecks and skimpies every second Friday night until it was time to head towards the big city. A day in the life is essentially struggling with the sunlight for a couple of hours before inevitably tapping out and spending the day writing hit and/or miss singles, in between striving for universal domination and feeding the magpies. Shaping up to be a biggun this year, our sophomore album 'Rumor and Innuendo' is coming out and we've got a whole lotta shows to play around the Country!
Cal wears the Garageland Shirt Summer Bloom & Childe shades - Secret
---
Describe yourselves in 5 words…
Effervescent, extravagant, exuberant, exhilarating, and, numerically illiterate.
You guys don't like to label yourselves as a particular type of music/band but can you tell us what we can expect to see, hear, feel at one of your gigs?
The best way to put it is a full bore assault on all of the senses, even, but not limited to, smell. To use a cliché that every single band, ever has taken and bastardised - a high velocity rock 'n' roll show that'll leave you plastered with a smile from ear to ear for weeks on end, unless otherwise surgically removed.
Where have your biggest influences and inspiration come from for your music and style?
Growing up right in the working class guts of the cultural hub of South-Eastern suburbia here in W.A has basically been the mould, really, and that's everything from the people and places, to our family home running the famed Tuesday Night Club (TNC) open house jam nights on Tuesday and Friday nights all throughout my childhood and early formative years, where we'd have a banquet of musicians from literally all over the world turning up and playing in our front room on any given night. That, and Professional Wrestling.
What's it like on the road with SRB?
Man, its blur! The party never ends, really. Someone's always running red hot and in turn everyone else will follow, no man left behind and all that. Roll into town, make a whole bunch of new mates, celebrate the nights work until ya can't celebrate no more, head on out to the next town, rinse (thoroughly) and repeat!
Dream gig venue/festival to play at?
Playing Shawn Michaels' entrance music at Wrestlemania was always pretty high up on the 'what if?' list, but reality dictates that's never gonna happen. To be able to play any venue ever with Van Halen, Lynyrd Skynyrd, AC/DC, Bob Seger and The Silver Bullet Band or Cold Chisel is the absolute f*****g dream.
How do you stay inspired/what inspires you most?
Real life! It's all happening, all the time, and if ya actually get out there, look around, talk to people, listen to people and get right in the thick of it, your inspirational database will forever be expanding. A good ol' fashion heartbreak doesn't go astray, either.
Cal wears the Light Logo Tee in Vintage Gold & Childe shades in SECRET Amber Ale
If you could be a part of any other band past or present who would it be?
The Southern River Band, everything else is already taken and I'm a bit sweet on the singer.
What is something/somewhere new that you've discovered recently?
That somewhere there's this man made beach around a lake behind a servo down the road from my house. It's got a f*****g waterfall and everything, no bulls**t. I wouldn't swim in the water personally, but the ducks seem to be doing alright. In a Back To The Future kinda way, that something is Ancient History, all the pyramids and empires and shit, its f*****g wild! I'm thinking of combining the two and building my own Atlantis in the lake.
For us East Coast kids… tell us more about Perth and where you're from, what are we missing out on, what are your fave places to hang?
We're exceptionally lucky to have a huge array of pubs and bars running live music in some form every night of the week, that always look after their bands, that in turn draws everyone back in as punters when they're not playing. They've all got a strict no d**khead policy too, which is a nice touch! Mojos in Freo, Jack Rabbit Slims and Lucys Love Shack in the city, Indi Bar and El Grotto in Scarborough, Si Paradiso in Mount Lawley, and the mighty Lakers Tavern out in Thornlie. Every coupla years it doesn't hurt to get nice and busted up and wander aimlessly around the casino, too.
Fave fit of Wrangler jeans?
Strangler hands down! They're like slipping into a hug from the love of your life on a hungover Sunday arvo. They shape everything - everything real nice too!
Cal's wearing the Strangler Super Sonic - https://wrangler.com.au/product/strangler-super-sonic#W/901224/FF6
Cal's wearing the Strangler Super Sonic
What does "Freedom" mean to you and when do you feel most free?
Living on your own time, and doing the shit you want to do, purely because you want to do it. Hanging out with your nearest and dearest, with no particular place to go and no particular time to be there, no one telling you to keep the volume down, talking the purest form of shit, having a big ol' singalong with a coupla guitars, and cranking Freebird like it's the last time it's ever gonna be heard.
How does your work/lifestyle create freedom for you?
The bands starting to move at well, not quite break-neck, but maybe a decent sprain-speed so it's a full time gig keeping everything moving. There aint much money involved and it's really just living day to day, or week to week at best, but there aint nothing much more free than running your own race and making a 'living' doing what you love.
Anything else?
Mega cheers to you guys and girls for doing this, means the whole bloody world and fifty cents world to us! If you're reading this, which obviously, you are, I implore you change your life for the better, jump on The Southern River Bands many forms of social media, and when we're playing anywhere within a 10 hour commute from you, get yourself a ticket and come and experience the greatest Rock 'n Roll Dance Party this side of the Milky Way, tell 'em Cal sent ya! Oh, and, buy yourself some god-damned Wrangler denim!
Wrangler Blog
At Wrangler our motto has been the same since the beginning. It's all about the jeans. Designed locally in Australia for free-spirited individuals, who live by an underlying sense of adventure and freedom.
Contributors

We at Wrangler Australia are a small and dedicated team who absolutely love denim. Contributors include our designers, marketing team and our collaborating friends.
Read posts >
Post of the Month
The Wrangler X fallen BROKEN street exchange party took place last Saturday from 11:11 as a pre Splendour shindig at one of the last great country pubs - the Billinudgel Hotel.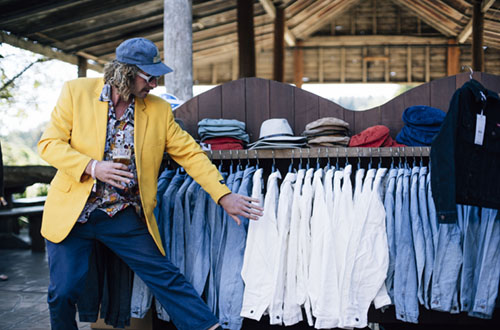 Read Post >
Instagram @WranglerAustrailia