Tuesday
September 11
2018
Free to be by the Sea
We set our sights on taking you back to the 90s with our latest Swim and Physical collection. Feeling confident in our bold colours and retro stripes, the girls hit Byron Bay's golden sandy shores, immersing themselves in nature. Soaking up the salty air and afternoon sun, they shared with us what is it about the sea that makes them feel free.
Describe yourself in 5 words:
Lani: Grooviest dancer on the floor.
Shaanti: Crazy, quirky, loud, caring, sensitive. In other words (I'm all over the shop!)
Mahlia: Fun, adventurous, caring, loving, funny.
Shaanti in the Logo Eva Bikini Top Flame
Shaanti in the Logo Eva Bikini Bottoms Flame
---
I feel most free when…
Lani: I know I have the ability to be loving and kind to others without any boundaries or restrictions.
Shaanti: I'm lucky enough to live a very free life, but at the moment for me surfing has been giving me the strongest feeling of freedom. Surfing alone or with a group of friends, it's the most freeing and refreshing feeling. Maybe it's the fact that I'm deeply immersed in nature and in awe of the surroundings of where I surf, or maybe it's the uplifting people that I am paddling around with, and also watching myself progress has been so good for my mental and physical health.
Mahlia: the best way to explain feeling free to me would have to be when you first jump in the ocean and dive under a wave. He feeling when you come up above the water and breathe in the fresh air and feel the sunshine on your face, you feel truly happy. That is freedom to me.
Being by the sea makes me feel...
Lani: Wondrous, surrounded by so much beauty. Makes me feel grounded when I think of the vastness and depth of the sea. I feel grateful that I can enjoy and call such beauty my home.
Bridgette: Relaxed and grateful for the world we live in.
Mahlia: Being by the ocean keeps me sane, without it I would go crazy.
Mahlia in the Stripe Logo Gia One Piece
Freedom to me is…
Shaanti: A feeling only you should understand, it's quite personal and very significant. It's almost like taking a deep breath out that feeling of a weight being lifted off shoulders, or running down a massive hill and feeling all the adrenaline rush up your spine into a giant smile on your face like you are 5 years old again. I think freedom is when you don't feel held back by anything and you are feeling capable of doing whatever it is you want to do, wether that physical or mental.
Mahlia: Being able to be myself, surround myself with likeminded people. Travelling.
I love where I live because...
Lani: I have the freedom to rise with the sun and rest when it sets, grateful that the time in between can be spent with beautiful people, eating nutritious food, drinking clean water and exploring my backyard.
Bridgette: We are surrounded by beautiful beaches, rainforests and amazing weather.
Shaanti: I have never lived in a place that has made me feel so "free" nor creative, everyone in Byron has moved here to figure out there next step in life. Being surrounded by so many strong individuals who work for themselves or are thriving in doing what they love has really helped me grow so much as a person and really develop who it is i want to be without having to fit a certain box that society expects me to be in. It's also such a stunning area, being surrounded by the hills and an incredible coastline is pretty magical.
Mahlia: It is ridiculously beautiful and I am surrounded by my friends and family.
Bridgette in the Gia One Piece Sunshine
I love the ocean because...
Lani: Of its ability to bring peace into the moment. Cool, calm and collected, thank you ocean.
Bridgette: You feel so amazing after going in.
Shaanti: I grew up on a boat, So I feel as though the ocean runs through my veins and as cliché as this sounds It also feels like whatever shitty feeling I had, as soon as I dive into the ocean that feeling is no longer present. "The sea sets you free".
Mahlia: It is home to me. Ive grown up around the ocean, I couldn't live without it! Whenever I need to clear my head, the ocean is where I go. It is my therapy.
My favourite beach is...
Lani: A secret one on the Sunshine Coast.... we call it secrets.
Bridgette: Green Mount.
Shaanti: Asu, a small little island in Nias Indonesia. It's the most stunning place in the world, still very untouched and the people are so incredible.
Mahlia: Is in Indonesia where I spent most of my childhood. A little tropical island called Asu, located off Nias west of Sumutra.
My bucket list beach is...
Lani: One with perfect waves and just the right amount of sun to shade ratio.
Shaanti: Anywhere in Central America with a long board wave or somewhere in Greece.
Mahlia: The Greek islands.
My 5 essentials for a day at the beach are...
Lani: My towel, my water bottle, my Sudoku, a pen and coconut oil. Swimmers are always optional.
Bridgette: Sunscreen, book (or podcast), water, sunnies and a hat :)
Shaanti: Longboard, water, snacks, a friend and a towel (although Iseem to forget this overtime)
Mahlia: Towel, a good book, snacks and music.
Lani and Malia in the Tri Logo Gia One Piece in White
I feel most free to express when…
Lani: I can drop everything that I'm doing when I have a lightbulb moment and go ham- whether that be writing in my notes, or singing in the car, I can do it all in the moment.
I feel most free to adventure…
Mahlia: When I am feeling content in myself loving who and where I am.
In my spare time I like to...
Lani: Be spontaneous, leave my days unplanned and allow whatever happen, to happen. Also to avoid cleaning my room as long as possible....
Bridgette: Draw or beach... weather depending.
Mahlia: hang at the beach. I like to read or do something creative such as painting, drawing, cooking and walking my doggies.
My talents include…
Lani: Finding the 9 letter word in the nine letter block puzzle. I can also cook a mean chocolate pudding and I've completed a Rubix cube maybe three times... so that's exciting.
Mahlia in the Stripe Logo Gia One Piece
What makes a perfect pair of swimmers...
Lani: Ones that stay on in the surf! Nothing worse than diving into a wave and surfacing with no bottoms.
Bridgette: Anything you feel like yourself in.
Shaanti: Ones that stay on when I'm surfing and swimming, I love stylish swimwear that makes me feel like a woman when I'm wearing them.
What do you love about your lifestyle?
Bridgette: I love that my job is always different and flexible and doesn't feel like work and living by the beach is a major plus!
This was your first time modelling! How did you find the experience?
Lani: It was fairly daunting to begin with, I was pretty nervous, I'm not going to lie- but as the day went on I started to relax and really enjoyed myself. It was so much fun to work with such a sick bunch of chicks!
Bikini or one piece?
Lani: Both?! Bridgette: Bikini, Shaanti: One piece, Mahlia: bikini
Water or sand?
Lani: Sand, Bridgette: Water, Shaanti: Water, Mahlia: Water
Ice cream or Icy pole?
Lani: Ice cream! Bridgette: Ice cream, Shaanti: Icy pole, Mahlia: Ice-cream
Mornings or arvos (at the beach)?
Lani: Mornings, Bridgette: Both, Shaanti: Both, Mahlia: Arvo
Wrangler Blog
At Wrangler our motto has been the same since the beginning. It's all about the jeans. Designed locally in Australia for free-spirited individuals, who live by an underlying sense of adventure and freedom.
Contributors

We at Wrangler Australia are a small and dedicated team who absolutely love denim. Contributors include our designers, marketing team and our collaborating friends.
Read posts >
Post of the Month
The Wrangler X fallen BROKEN street exchange party took place last Saturday from 11:11 as a pre Splendour shindig at one of the last great country pubs - the Billinudgel Hotel.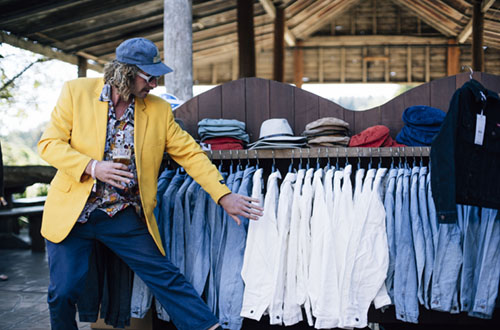 Read Post >
Instagram @WranglerAustrailia