Wrangler Stranglers - Celebrating 10 Years
Wrangler Stranglers. The original skinny jeans.
At Wrangler we believe that quality and simplicity is the essence of timeless denim. 10 years on we celebrate our signature and most iconic fit, the Wrangler Strangler.
The original skinny jeans have stood the test of time, worn by rock stars, dare devils, artists and adventurers, the world over. Get the low down, on all things Strangler with our mens denim designer, Elly Frangos.
WATCH THE ORIGINAL CAMPAIGN VIDEO HERE //
Why do you think the Strangler has stood the test of time, and why do you still love the fit?
Growing up I loved music, some of my earliest memories are during the early 80s dancing around to AC/DC at my parents BBQs being head high to all the stonewash denim jeans at the time.
Denim in the 80s really was having a moment in Australia.
My constant inspiration for denim is Music and in particular Metal, Grunge and Aussie Pub Rock with so many iconic bands growing up I became obsessed with dudes in tight jeans. My fashion inspiration has always been guys like Slash and Bon Scott I've always tried to emulate their denim and I'm pretty sure that I wasn't alone. It wasn't till the Strangler finally arrived on the scene that guys could really give the awesomeness that skinny jeans can provide a red hot go and now skinny jeans are basically a wardrobe staple.
How should they fit & how do you find your size?
The best way to work out what size stranglers you should be wearing is to try them on, our stockists always have wonderful knowledgeable people working the denim section so this is a fantastic option to take advantage of.
When trying a pair of jeans on always take into the dressing room the size you usually wear and the same option in one size up and one size down from your regular size to know what you really want in the fit. We do half sizes in all our denim which is awesome we do this because we know people have bodies of all shapes and sizes and some like to go a little looser in their fit some a little tighter it's all personal preference and comfort.
When you are putting the Stranglers on, remember that you want these guys to fit tight but not cut off the circulation and remember when you're trying to hike them up to hold onto the waistband, don't use the belt loops this is not what they are for!! They are like the moniker states… belt loops as in loops for your belt…. Word of warning if you use them to pull your jeans up they may rip off…true story.
Once you have the jeans on, they should be sitting low and they should be fitting snug on your body but comfortable, it's also good to do a half squat for a minute in the change room to loosen the jeans slightly and if they feel perfect when you stand up you're on a winner!
Tell us about Wrangler's ethical sourcing and the quality of the fabric used.
We care about where our denim comes from, whether it be where the cotton has been grown (did you know that Australian cotton is one of the best cotton fibres in the world for denim?), the quality of the elastane/lycra and even where the fabric is woven because we want to ensure quality product at all times. We have a number of mills that we source our denim from, by doing this we have the historical footprint of the life of the fabric we choose, we never use factory sourced denims because we want to ensure that our customers are gaining a truly compliant product.
Wrangler falls under VF's Global Compliance Principles, of not only worker's welfare and ethically sound practices, but also minimising the effect on the environment. Feel free to read more about that here: http://www.vfc.com/powerful-platforms/sustainability
Denim After care | How to care for your Stranglers –
Caring for your jeans is relatively easy, jeans are made from cotton which is a living fibre that's why when you wear jeans they move to the shape of your body. Cotton doesn't really like to be washed, so I would suggest not to wash too often, sometimes if they are getting a little worn in smell-wise, I like to put my jeans in the dryer on a low / cold heat or if you are having a nice steamy shower hang your jeans up in the bathroom this helps them to stay fresh.
If I absolutely must wash (nod to the dude on the plane that spilt his bloody mary on me during a longhaul flight) I do so inside-out either hand wash or delicate machine wash in cold water with a small amount of salt or low enzyme washing detergent and fabric softener……I love fabric softener also… if your so inclined a few drops of essential oil in the wash makes your jeans smell awesome too! Drip dry in the shade
Please remember whilst we do everything in our power to build your jeans to last it's up to you the wearer to take the best care you can of your wranglers when they are yours if you do so you will have a wonderful long term denim companion.
Wrangler Blog
At Wrangler our motto has been the same since the beginning. It's all about the jeans. Designed locally in Australia for free-spirited individuals, who live by an underlying sense of adventure and freedom.
Contributors

We at Wrangler Australia are a small and dedicated team who absolutely love denim. Contributors include our designers, marketing team and our collaborating friends.
Read posts >
Post of the Month
The Wrangler X fallen BROKEN street exchange party took place last Saturday from 11:11 as a pre Splendour shindig at one of the last great country pubs - the Billinudgel Hotel.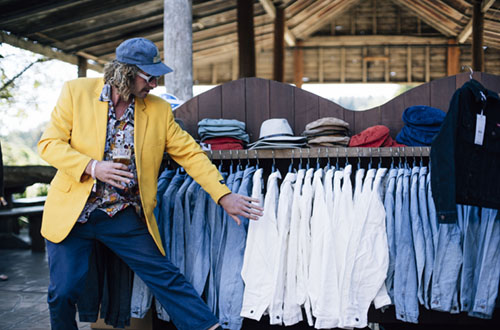 Read Post >
Instagram @WranglerAustrailia